AMD Offers Bundle Deals On Ryzen 7000 And 5000 Series Processors For March
You may have heard that the PC market is slow right now, with sales at their lowest in years. Perhaps as an attempt to counter this trend, prices on AMD's CPUs have never been lower, and the company's also running a promotion on most of its CPUs that could net you a decent discount on a new system. If you've got a tax return burning a hole in your pocket and a need to upgrade your PC, take a look at this offer.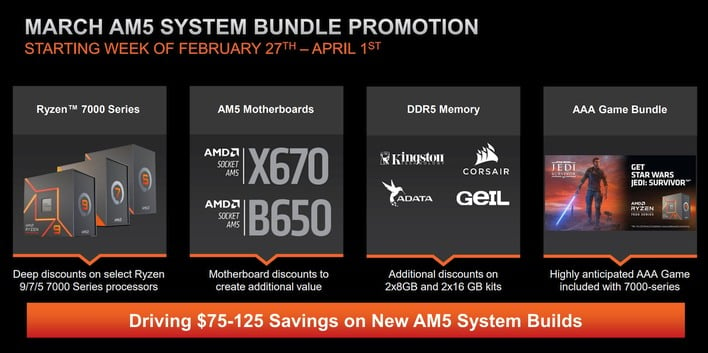 Or at least, keep an eye out for this offer, anyway. AMD says it's going to offer between $75 and $125 off on "new AM5 System Builds," and that discounts will be applied at checkout with participating retailers. We're not completely clear on how that discount is going to be delivered—despite the start date of February 27th, we weren't yet able to verify it at any of the retailers we checked—but we'll make sure to update this post (or create a new one) once we have those details.
Even if you can't claim that discount, though, you can still get a free game while taking advantage of deeply-discounted CPUs, especially from the company's previous-generation Ryzen 5000 series. Folks who are picking up any Zen 4-based Ryzen 7000 CPU that doesn't come with 3D V-Cache will get a free copy of
Star Wars Jedi: Survivor
, the sequel to 2019's popular
Star Wars Jedi: Fallen Order
, which comes out on April 28th.
The more-recently-released "non-X" versions of the Ryzen 7000 family have lower power ratings and as such, suffer slightly reduced multi-core performance to drastically reduce their heat output and power consumption. They're not discounted from their launch prices, but you still get a copy of Star Wars Jedi: Survivor, and they should still be eligible for the bundle deal, too.
Meanwhile, if you're keen to stick with the mature Socket AM4 platform and its efficient Zen 3 processors, you can pick up a free copy of Company of Heroes 3. We don't believe the discount bundle deal applies to these CPUs, but given the low cost of Socket AM4 motherboards as well as the DDR4 memory that they use, you might still come out ahead in the pocketbook anyway. Of special mention is the Ryzen 7 5800X3D, which hangs tough with the Zen 4 processors above in most games. For a pure gaming rig, it might still be a great choice.
We might expect pricing to fluctuate a bit throughout the month. If you catch a particularly good combo, let us know in the comments below!