SpaceX Dragon Cargo Ship Docks At Space Station Carrying A Big Science Payload
SpaceX Dragon cargo ship delivers supplies and new experiments to the crew aboard the
International Space Station
. Dragon will remain docked for about a month before returning to Earth with cargo and research.
NASA's
SpaceX
29th commercial resupply mission launched on November 9, 2023, from Launch Complex 39A at the Kennedy Space Center in Florida. The uncrewed Dragon spacecraft carried about 6,500 pounds of cargo to ISS, which included supplies, scientific experiments, and technology demonstrations such as NASA's ILUMA-T (Integrated Laser Communications Relay Demonstration Low-Earth-Orbit User Modem and Amplifier Terminal).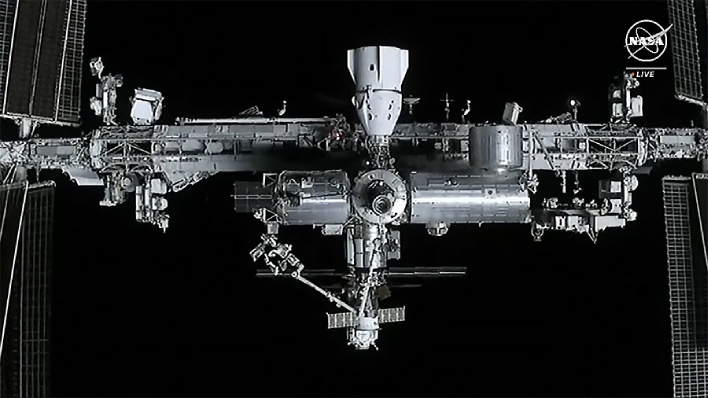 ILLUMA-T will test high data rate laser communications from the space station to Earth via NASA's Laser Communications Relay Demonstration (LCRD) and the space agency's Atmospheric Waves Experiment (AWE). AWE studies atmospheric gravity waves to understand the flow of energy through Earth's upper atmosphere and space.
Also onboard Dragon is respiratory health research known as Gaucho Lung. According to NASA, its purpose is to study how mucus lining the respiratory system affects the delivery of drugs carried in a small amount of injected liquid, known as a liquid plug. The research aims to understand how factors in microgravity might alter the development and optimization of targeted respiratory treatments.
Another technology delivered via Dragon is the European Space Agency's Aquamembrane-3. This study will continue investigating the replacement of multi-filtration beds used for water recovery on the space station with a type of membrane known as an Aquaporin Inside Membrane (AIM). The aim is to develop technology to filter water faster while using less energy using proteins found in biological cells, known as aquaporins. It could also be beneficial in extreme environments back on Earth, such as emergency settings.
Astronauts onboard ISS continue to conduct hundreds of investigations, like the ones delivered from the
SpaceX Dragon
, that will help future astronauts stay healthy during long-duration space travel and technologies for future missions to the Moon and Mars.