Watch Flames Shoot Out Of SpaceX's Starship Rocket From An Amazing Vantage Point
SpaceX shared phenomenal footage of its latest round of test fires on its massive upper-stage rocket, Starship. The Elon Musk-owned space agency is still waiting to receive clearance from the Federal Aviation Authority (FAA) for a second test flight of its Super Heavy rocket.
The footage of the test fire was posted to X, also owned by
Musk
, and shows incredible aerial views of the event. One view showed the test fire from the side of Starship, while another captured the fiery event from directly above. The
test fire
was performed at SpaceX's Boca Chica, Texas facility. It's the same facility where the first launch of Starship took place.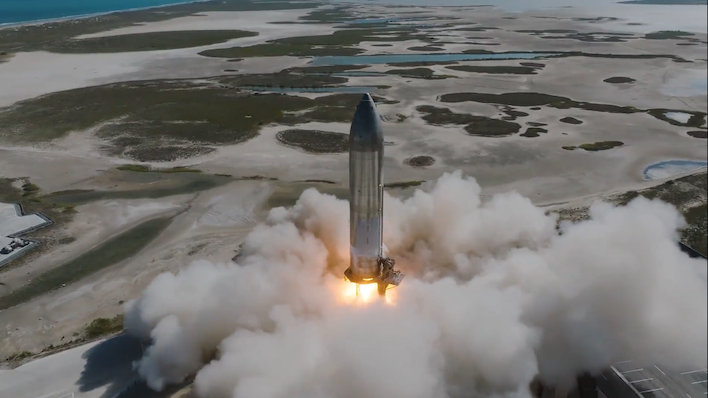 That first test launch ended with the spacecraft self-destructing minutes into its flight. However, Musk and SpaceX still considered the launch a success. The FAA investigated the flight and determined an "anomaly" occurred during Starship's ascent and before stage separation, resulting in the loss of the spacecraft.
Since then, SpaceX has been working toward a second test launch of Starship. Musk has commented that he believes Starship has a "decent" chance of reaching orbit this go-round.
Abhi Tripathi, former mission director for SpaceX's Dragon spaceship, said in a separate interview that Musk is "usually not as optimistic" as he is about the next attempted test flight. He added that he would consider the second test flight a success if two major milestones can be achieved. The first is minimal damage to the launch mound and ground infrastructure, and the second is that at least 32 of the 33 engines stay lit.
There is still no date for a second test flight of Starship set as the space company awaits clearance from the FAA, which ordered a mandatory 63 corrective actions to be taken before the second test flight.