Snapdragon 8 Gen 3 Blows Past Apple's A16 Bionic In Benchmark Leak
We've only just gotten the first phones with Qualcomm's latest Snapdragon 8 Gen 2 chip, including the new
OnePlus 11
, and already an alleged benchmark of its successor has leaked. The supposed Snapdragon 8 Gen 3 benchmark shows the ARM processor besting everything under the sun, even Apple's class-leading A16 Bionic.
The benchmark comes by way of a Weibo account, so take this with a grain of salt. However, the
screenshot of Geekbench results
shows an impressive result of 1,930 single-core and 6,236 multi-core. The post further claims power consumption has decreased by 20% versus the Gen 2 despite the higher performance.
That's a substantial increase over the Snapdragon 8 Gen 2 reference hardware, which
we tested at 1,486/5,225
. The latest iPhones put up numbers around 1,850 for single-core and 5,350 in multi-core. So, based on the leaked numbers, the iPhone falls just slightly behind in single-core, but it's down around 15% in multi-core performance in Geekbench.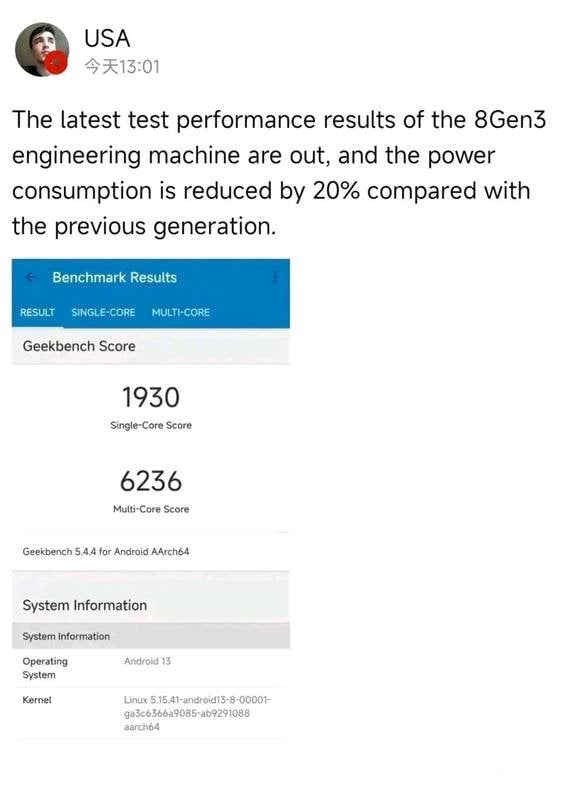 Geekbench can provide an interesting point of comparison, but you can't extrapolate the benchmark to final device performance. Apple optimizes its software for just a few hardware profiles, so it doesn't need the same resources as Android on Snapdragon. That said, this sort of year-over-year performance gain would be impressive and would likely translate to more responsive devices.
Other leaks based on the Qualcomm engineering hardware claim the Gen 3 chip uses a 3nm process node, which would be an improvement over the 4nm process currently in use. Other sources disagree about whether the Snapdragon 8 Gen 3 will have eight or ten CPU cores. That could mean a prime core, five high-power CPU cores, and either two or four low-power cores.
The Snapdragon 8 Gen 2 will continue appearing in flagship smartphones throughout 2023. We don't expect to get any official specifics about the next-gen chip until late in 2023.