Ford F-150 Super Snake Sport Is A 770HP Toy Hauler Strip Beast That Will See Production
Say the name Shelby, and you automatically think of hopped-up Mustangs like Ford's own 2020 Mustang Shelby GT500. Shelby American is the company founded by the late Carroll Shelby, and it also hops up Ford cars and trucks. The truck seen here is the Shelby F-150 Super Snake Sport, the latest Shelby American vehicle.
The slick-looking truck was initially an R&D exercise, but it is going into production. Shelby American president Gary Patterson says that the response to the R&D truck from dealers, enthusiasts, and the media was strong enough that the Shelby F-150 Super Snake Sport will start production in Q1 2020.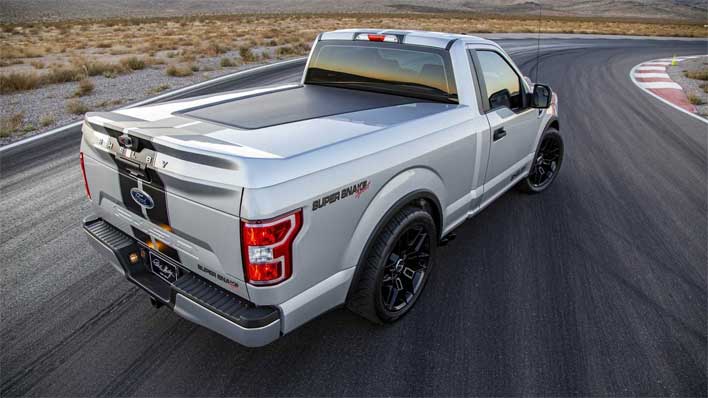 It will be a limited edition model with only 250 made, and it will cost more than Ford's Shelby GT500 by a long shot. A naturally aspirated 5.0-liter Super Snake truck will start at $86,085. For the money, all that truck gives is more style than a base Ford F-150 with custom Shelby body panels, including front and rear fascias, stripes, wheels, and plenty of Shelby badges. It also gets a very cool rear bed cover. All that style and a stock Ford 5.0-liter V8 won't sit well with some enthusiasts.
For those wanting show and go, Shelby American has a version of the truck that looks the same on the outside, but bolts a big supercharger to the 5.0-liter V8 engine to give the truck 770 horsepower and the ability to sprint to 60 mph in 3.4 seconds. That is crazy fast for a full-size pickup, but the price for the supercharged version is a wallet crushing $93,385. Since the trucks are limited edition, it would be a safe assumption that dealers will mark the price up well over MSRP.