Samsung Issues Bold Prediction For When 1-Petabyte Capacity SSDs Will Arrive
At the recent China Flash Memory Summit (CFMS 2023), a Samsung exec set out his vision for NAND Flash memory. During the speech on the theme of the "Re-evolution of Flash Memory and Towards a New Era," Kyungryun Kim, VP of Samsung and GM of the NAND Product Planning Group, predicted 1-Petabyte (PB) SSDs will be available within the next decade.
As someone who has previously spent $100s on computer storage devices measured in megabytes, then gigabytes, and now mostly deals in terabytes – it isn't a surprise to see this next transition on the horizon. Remember, a 1PB drive is equivalent to 1,024TB.

Contemporary SSD
capacities in the consumer realm are still limited to 4TB and 8TB, so there is a long way to go until companies like Samsung have 1PB+ single drives in their sights. If we look at larger form factor drives and enterprise / data center targeted devices, last year Nimbus Data was
touting 200TB
, with a hint of 400TB capacity SSDs, in a 2.5-inch device. Recently, Pure Storage outlined its roadmap including
300TB SSDs
.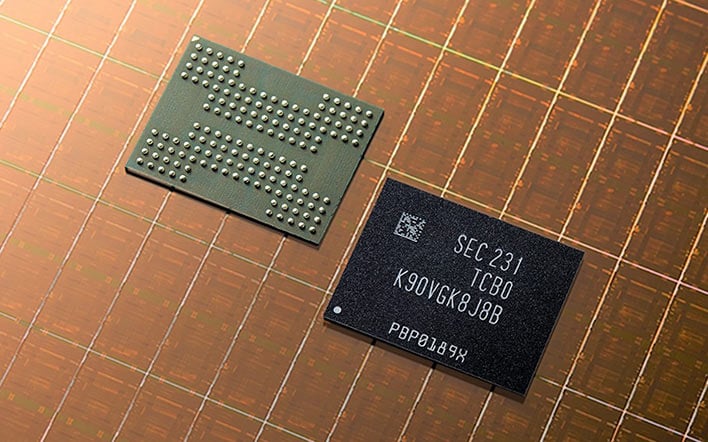 Circling back to the Samsung announcement, the South Korean tech giant's presentation highlighted the growth in data consumption that is driving the need for these new higher capacity – and faster – storage devices. The growth in data from the metaverse, autonomous driving and robotics will be huge, it said – compounded by the Internet of Everything and continued proliferation of smart devices.
At the CFMS 2023, Kim explained that to keep up with data capacity demand, Samsung was pushing on several fronts. "The physical scaling technology, logical scaling technology and packaging technology of
3D NAND
are changing," explained Samsung (Chinese language source link:
ASMag
).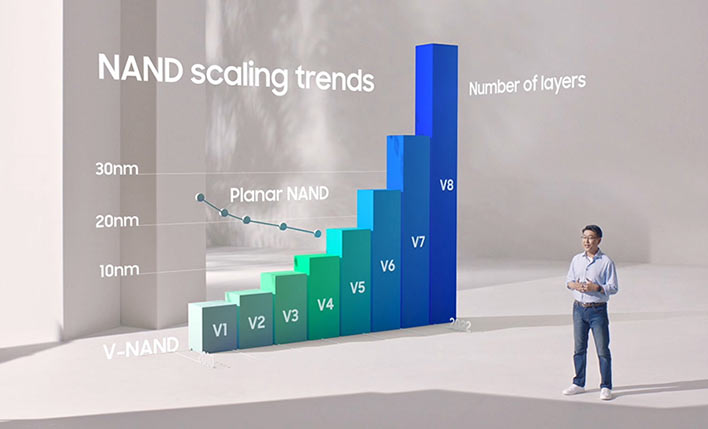 In the nearer term, Samsung is going to do more to spur the widespread adoption of QLC (quad-level cell) for the improved density, while minimizing drawbacks "through smarter QLC usage." It would have been good if Samsung could have elaborated on how it would make better use of QLC, with its reputation for reduced performance, but it might not have wanted to give clues to rivals. With the issues presented by QLC, it is hard to believe P(enta)LC, H(exa)LC, or even O(cta)LC technologies could be mainstream within a decade. Instead, the answer may lie partly in physical scaling, and even more in expected advances in materials and emerging technologies.