OneXFly Zen 4 Gaming Handheld To Launch At Surprisingly Low Price To Battle Steam Deck
One of the many reasons why the Steam Deck has been so popular is because of Valve's aggressive pricing. As we saw early on, competitors had a difficult time offering compelling alternatives in the same pricing category, but that's starting to change. First there was the
ASUS ROG Ally we reviewed
last month, and now One-Netbook is joining the fray with its Zen 4-powered OneXFly.
The intriguing handheld is headed to Indiegogo with a starting price of $739. That makes it a tad more expensive than either the highest-end
Steam Deck
($649) and also the ROG Ally ($699), but the base specs are more in line with the latter, which is the more powerful handheld. Here's how pricing will shake out for crowdfunders...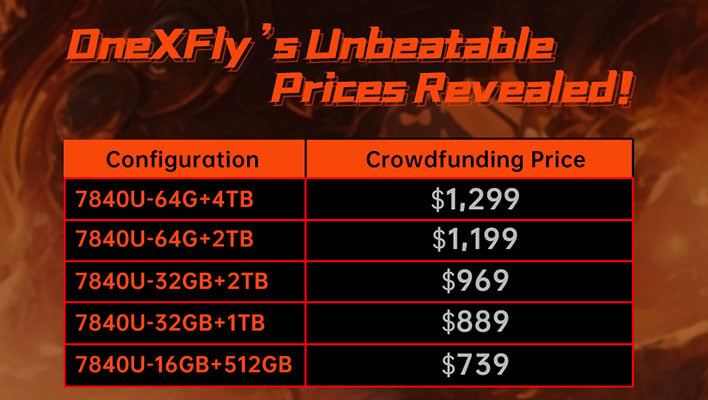 The 16GB of DDR5-7500 RAM is equivalent in capacity to (and faster than) the top Steam Deck config and ROG Ally, as is the 512GB of storage. So even though OneXFly pricing goes up to $1,299, it's the $739 tier that is the most relevant in making a direct bang-for-buck comparison with those two other consoles. As such, pricing here is competitive.

RAM and storage aside, the OneXFly lineup employs the same 7-inch display with a thin bezel, 1920x1080 resolution, 120Hz refresh rate, and 450 nits brightness across the board. It also features a Ryzen 7 7840U
Phoenix processor
, which is an 8-core/16-thread Zen 4 chip with a 3.3GHz base clock, 5.1GHz max boost clock, and 16MB of L3 cache.
The overall form factor is similar to the Steam Deck and ROG Ally, though One-Netbook says the OneXFly "crushes the competition in portability," which is in reference to its thinner and lighter design—it weighs 580 grams, versus 608 grams for the ROG Ally and 669 grams for the Steam Deck.
There's also a customizable RGB emblem that's unique to the OneXFly. It's admittedly neat as you can see in the video above, though we'll be curious to see if it has a meaningful impact on battery life. And it's apparently a great handheld to take on hikes, because after all, who ventures into the wild without a game console?
One-Netbook tells us the
OneXFly's Indiegogo campaign
kicks off at precisely 11:00am EDT / 8:00am PDT on August 10, 2023 (a week from Thursday).