Oh Super, NVIDIA Reportedly Halts Mass Production Of GeForce RTX 4080 And 4070 Ti GPUs
As with the departure of a dear friend, anytime one's favorite graphics card takes its final curtain call, there is cause for reflection. The NVIDIA GeForce RTX 40 series GPUs have enjoyed quite a storied history since their initial release. Coming hot off the trail of the egregiously frustrating GPU shortage that preceded it, gamers were left in a difficult environment.
GPUs such as the NVIDIA
GeForce RTX 4090
were showered with praise for their incredible performance gains, even with the high entry price. Lesser herculean products such as the GeForce RTX 4080 suffered a more perplexing fate, with gamers unwilling to fork up the $1,199 MSRP required for its performance class.
Recent murmurs suggest that the NVIDIA GeForce RTX 4070 Ti and GeForce RTX 4080 are on their last legs, with possible production ending in Q4 of this year. This will tie in together with the various rumors of a
GeForce RTX Super refresh
, with the GeForce RTX 4070 Ti Super and GeForce RTX 4080 Super both being possibilities.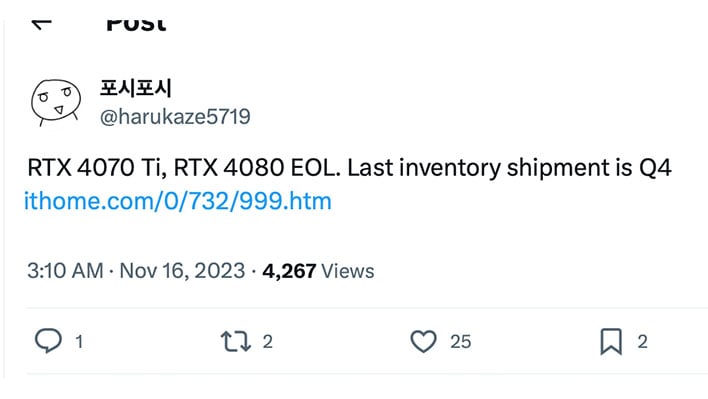 While the GeForce RTX 4070 Ti was priced more generously at $799 MSRP, complaints about its narrow 192-bit memory bus and only 12GB of VRAM drew concerns. Ironically, gamers seemed to prefer it when faced with the choice of the more expensive GeForce RTX 4080, so it has its following.
NVIDIA would not simply stop them if there was not a
new batch
expected, however. The GeForce RTX Super refresh should bring with it not only performance improvements, but also the possibility of pricing adjustments. First, it can help to reduce the cost of existing inventory on store shelves as discounts roll in to make way for new product SKUs. GPUs such a the GeForce RTX 4080 can benefit from this tremendously, having been on sale more commonly than other NVIDIA GPUs recently.
Secondly, more performant Super models can continue to improve the already stellar performance of GeForce RTX 40 series products, particularly with DLSS 3 and best-in-class ray tracing chops.
Finally, pricing on the Super products themselves will be interesting to witness. Will NVIDIA choose to keep them at similar prices to the outgoing models? Perhaps NVIDIA may want to flex its muscle and price them at even more attractive levels to make sure any competition is squashed. Regardless, time will tell if the performance improvements and pricing will be enough to jolt the currently lukewarm graphics card market.