NVIDIA May Counter Intel's Arc A580 GPU With A Cut Down GeForce RTX 3050 6GB SKU
A lot is happening in the world of entry-level GPUs right now. Intel is reportedly finally launching its Arc A580 graphics card despite announcing the model a year ago.
The Arc A580
is expected to target RTX 3050 performance levels. Meanwhile, NVIDIA appears to be releasing a competitor to the Arc 580 in the form of an even less powerful RTX 3050 with 6GB of VRAM.
The Arc A580 info comes from popular graphics card leaker @momomo_us on X (Twitter), who shared two new slides revealing the Arc A580's specs and launch window. The new card will feature 24 Xe Cores, 24 RT units, 8GB of memory, up to 512GB/s of memory bandwidth, and a 185W TDP. In reference to Intel's current stack of Arc Alchemist GPUs, the Arc A580 will sit in between the A380 and the A750, but will feature performance closer to that of the Arc A750 based on specs.
The graph did not disclose pricing, but the second graph @momomo_us shared shows the potential release date for the A580. The slide interestingly shows a launch window for the A580 starting all the way back in July for the Sparkle AIB partner variant of the Arc A580, but it also shows a September/October release window for ASRock's variant of the Arc A580 as well. As a result, we should be seeing the A580 at anytime, particularly the ASRock variant. The
Sparkle
release window is very confusing, since the card is technically supposed to be out already, however Sparkle's website lacks any information on its reportedly planned Arc A580 model.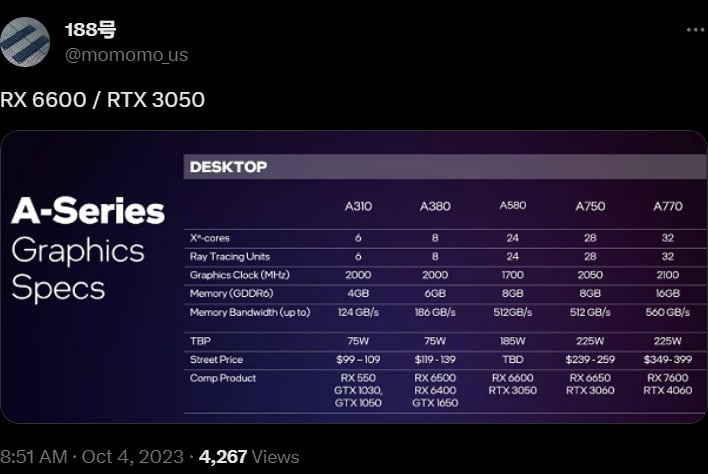 Moving on to
the RTX 3050
, a report from another leak has unveiled that NVIDIA is expected to launch a new RTX 3050 in 2024 with a further
cut down GA107
die and 6GB of GDDR6 memory. Specs aren't fully confirmed, but it is believed that the RTX 3050 will come with the GA107-325-Kx GPU die, featuring 17% lower clocks than the outgoing RTX 3050 model, 96-bit wide bus, and as previously mentioned just 6GB of memory.
However, in turn for the card's lower specs, this new RTX 3050 variant will reportedly come with a TGP rating of just 70W making it substantially more power efficient than the 115W RTX 3050 8GB and capable of running without supplementary 6-pin or 8-pin PCIe power connectors. The CUDA core specs were not listed, but given that the GPU will have a reduced memory bus interface, there's a high chance this model will also come with slightly fewer CUDA cores. If we reference the mobile RTX 3050 variant, it could be as low as 2048 cores.
It remains a mystery why NVIDIA would want to build another RTX 3050 variant, especially with the RTX 40-series lineup virtually complete at this point. You would think that NVIDIA would want to build a more powerful RTX 4050 variant to complete the roster, but apparently that is not the case. A plausible explanation is that NVIDIA could have a surplus of GA107 dies and needs a way to sell them off. This would make a lot of sense considering NVIDIA's RTX 3050 8GB was highly criticized for its high price and low performance at launch, compared to competing card's like the RX 6600.
We're not sure if making an inferior variant of the RTX 3050 will solve NVIDIA's theoretical supply issues, but we will find out what happens once it releases next year. Either way, it appears the entry-level market will be getting access to two new graphics cards from
NVIDIA
and
Intel
in 2024.