NVIDIA GeForce RTX 4080 FE Smiles For The Camera In Stunning Tuxedo White And Black
Many folks would agree that NVIDIA has done a pretty good job designing its Founders Edition graphics cards, both in regards to cooling performance and aesthetic appeal. Of course, the latter is completely subjective—beauty is in the eye of the beholder, after all. Even so, we think most people would also agree that a custom
GeForce RTX 4080
Founders Edition decked out in white and black looks stunning. This custom theme comes courtesy of
Reddit
user TeknoMage13, who shared a couple photos of their nifty theme a few days ago.

"I used a spray can of Valspar extreme adhesion white primer, but I would use an airbrush next time. I followed NVIDIA's 4090 disassembly guide but left the PCB on the heatsink because I didn't want to replace the pads and thermal compound. I used an iFixit toolkit for my tools," the user wrote.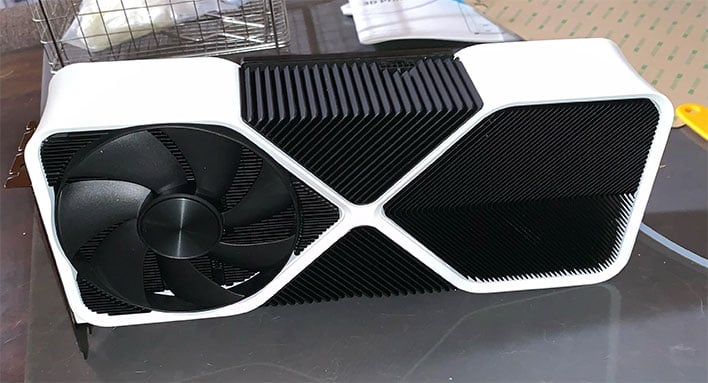 The tuxedo theme has drawn a fair number of complements in the thread, and deservedly so. "Looks sick," one user commented, while another stated, "Why wasn't this an option from the factory? Insanely nice." We're in total agreement with the
general sentiment
.
For now, this custom card's job is to simply sit and look pretty. That's to say it's not actually installed in a PC just yet, as the modder is waiting on some key parts to arrive for a new PC build. When finished, the white and black GeForce RTX 4080 will reside in an NZXT N7 B650E motherboard, flanked by an AMD
Ryzen 7 7800X3D
CPU with a mountain of cache.
We hope they share follow-up pics of the finished build. That NZXT motherboard is stunning in its own right with its stylish metal shrouds that cover nearly the entire PCB.
It should also be a fast gaming PC when all is said and done. The Ryzen 7 7800X3D is an 8-core/16-thread processor based on Zen 4 with a 4.4GHz to 5GHz clock speed, but the real treat is the
3D V-cache
—it sports 104MB of L2+L3 cache, compared to 40MB on the Ryzen 7 7700X.
As for the GeForce RTX 4080, it's the second-fastest GPU in NVIDIA's stable. In our testing, the card generally outperforms both the previous-generation GeForce RTX 3080 Ti and GeForce RTX 3090 Ti. It also opens the door to using
DLSS 3
to bump up those frame rates in supported titles.
Images courtesy of TeknoMage13 via Reddit