AMD's Ryzen 7000X3D CPUs With Heaps Of Cache Are Coming But Not On Valentine's Day
We're all infatuated with AMD's relatively newfound penchant for
stacking 3D V-cache
onto its processors to deliver better gaming performance, and are absolutely smitten with the company's decision to pack heaps of cache on no less than
three
Ryzen 7000 series SKUs this time around. Even better, AMD seemingly confirmed the new SKUs would arrive on February 14, 2023. But alas, the Valentine's Day launch is not to be (probably).
When AMD
announced its new chips
at the Consumer Electronics Show last week, it said they would arrive sometime next month. Then earlier this week, news spread like wildfire that AMD's product listings for the Ryzen 9 7950X3D, Ryzen 9 7900X3D, and Ryzen 7 7800X3D had been updated to reflect availability on February 14. Turns out that was in error, though.
"As you know, today AMD.com briefly published a launch date for the Ryzen 7000X3D series desktop processors; however, that date is incorrect. We have not confirmed a launch date at this time. We will provide updates on the expected availability of these processors at a future date," AMD said in a statement.
Looks like the old fallback of a fancy dinner date accompanied by roses and candy is the way to go. Or maybe not—while AMD's statement appears to have shut the door on a Valentine's Day launch, that doesn't mean the anticipated SKUs won't arrive before then. By that same token, though, it also means they could arrive on the last day in February (barring a delay) and still be within AMD's official launch window.
Whatever the case, these are likely to find an eager audience, particularly among gamers. AMD's last-gen
Ryzen 7 5800X3D
has been a popular SKU and even manages to give the regular Ryzen 7000 series some competitive fire, depending on the game and/or benchmark. Having a fat stack of cache on AMD's latest offerings is an enticing proposition to be sure.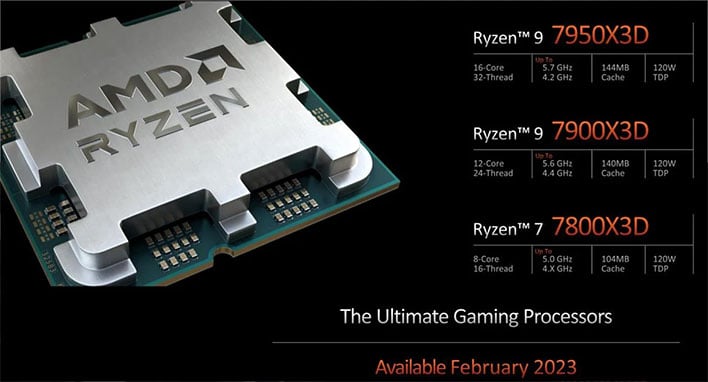 To quickly recap, here's a look at the core specs of the three upcoming models, along with their non-X3D counterparts...
Ryzen 9 7950X3D: 16C/32T, 5.7GHz boost, 144MB L2+L3 cache
Ryzen 9 7950X: 16C/32T, 5.7GHz boost, 80MB L2+L3 cache


Ryzen 9 7900X3D: 12C/24T, 5.6GHz boost, 140MB L2+L3 cache
Ryzen 9 7900X: 12C/24T, 5.6GHz boost, 76MB L2+L3 cache


Ryzen 7 7800X3D: 8C/16T, 5GHz boost, 104MB L2+L3 cache
Ryzen 7 7700X: 8C/16C, 5.4GHz boost, 40MB L2+L3 cache
Note that regular Ryzen 7 7800X doesn't exist (yet), hence the comparison of the Ryzen 7 7800X3D to the Ryzen 7 7700X. Additionally, we're still waiting on AMD to announce pricing on its Ryzen 7 7000X3D processors. As points of reference, over on Amazon you can snag the Ryzen 9 7590X for
$626
, the Ryzen 9 7900X for
$546
, and the Ryzen 7 7700X for
$337
. The last-gen Ryzen 7 5800X3D, meanwhile, currently
sells for $344.89
.
It's going to be fun to see how these chips compare not only to AMD's existing Zen 4 offerings, but also Intel. The stage is set for a heavyweight bout between Intel's brand-new
Core i9-13900KS
running at 6GHz out of the box, and AMD's upcoming Ryzen 9 7950X3D with a mountain of cache.