Netgear's Nighthawk MK93S Mesh Router Arrives As iPhone 15 Readies A Big Wi-Fi 6E Push
Netgear is expanding its wireless router lineup with the introduction of the Nighthawk MK93S, a powerful and compact tri-band Wi-Fi 6E mesh router system that includes the main unit and two satellites. According to Netgear, the three piece MK93S system provides high-speed connectivity that's up to 50% faster than its predecessor, for homes up to 7,500 square feet.
The timing of the release is also notable. You may recall that in 2021 we sat down for a chat with guests from Intel to
discuss Wi-Fi 6E networking
and why you should care. Now two years later the buzz has somewhat shifted to Wi-Fi 7 connectivity. To that end, Realtek put on an impressive
Wi-Fi 7 speed demo
at Computex.earlier this year.
It's not time to write off Wi-Fi 6E, though. Mass market adoption takes time, and according to Netgear, the arrival of its MK93S systems comes at a key moment—on the heels of the launch of
Apple's iPhone 15 series
. A representative from Netgear tells us this will give an "unprecedented boost" to Wi-Fi 6E's market reach.
"The new iPhone 15 Pro and iPhone 15 Pro Max models are now upgraded to WiFi 6E. The latest Wi-Fi technology unlocks potential that hasn't been seen since the introduction of 5GHz over 20 years ago—and Apple is the latest tech giant to support the new standard," the representative told us.

"The iPhone embrace of WiFi 6E will mark a fundamental shift in consumer adoption. While WiFi 6E isn't new to all Apple products, it hadn't found its way into iPhones yet, meaning WiFi 6E volume is set for an unprecedented boost – along with routers that support it," the representative added.
We'll see if that prediction comes true. Apple joining the fray is a big deal, though it's not breaking new ground as there are several Android phones that have long supported the Wi-Fi 6E standard.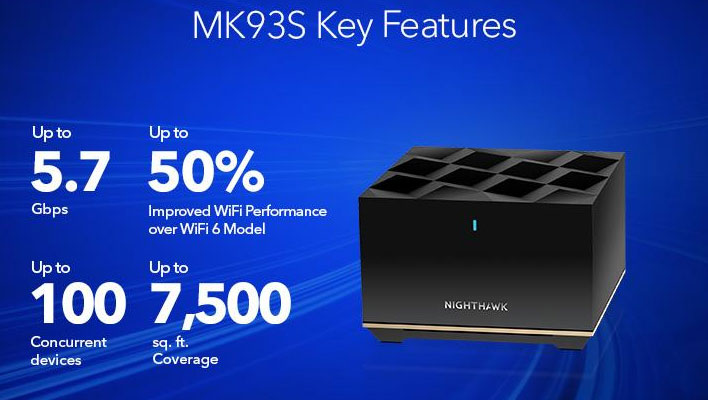 As for the MK93S system, it's a tri-band wireless router supporting speeds of up to 2,400Mbps on each of the 6GHz and 5GHz bands, and 900Mbps on the 2.4GHz band. If you add those together (2,400 + 2,400 + 900) you get 5,700Mbps of total bandwidth, hence the AXE5700 model designation.
You can't actually combine all three bands (or even two bands) into a single super-channel of sorts, but that's how wireless routers are marketed anyway. Nevertheless, these are fast speeds.

The Wi-Fi 6E protocol was specifically designed to handle today's multi-device households, which is important as the IoT market continues to grow. According to Netgear, the MK93S can deliver "max speeds for up to 100 connected devices." The company's recommendation is to put IoT devices on the 2.4GHz band and use the 5GHz and 6GHz band for high-speed gadgets (where supported), like smart TVs and game consoles.

Users will also find seven Ethernet ports, including three 1Gbps ports on the main router (plus a 2.5Gbps WAN port) and two 1Gbps ports on each satellite. Netgear says you can further boost your wired speeds up to 2Gbps by combining two of the LAN ports together.
It looks like a promising mesh router setup from our vantage point. The
Netgear MK93S is available to preorder
now for $549.99, which is fairly competitive for the feature set it offers (2.5G WAN ports, etc.), and a router with two satellites system.