Netflix Is Killing Its DVD Side Hustle, Delays Password Sharing Crackdown In The US
It was inevitable that Netflix would eventually abandon its DVD-by-mail business and that day is fast approaching. The streaming service announced it would ship out its final discs on September 29, 2023, ending a remarkable DVD run that saw the fall of
Blockbuster
(save for a lone store in Bend, Oregon), the rise and fall of HD-DVDs, and so much more in the past two and a half decades.
The reason for shutting down its DVD rental business is simple—the business continues to shrink making it increasingly difficult to justify hanging on. After all, this is a very different world than it was 25 years ago. Streaming content has replaced optical media as the format of choice for many movie watchers, in large part because of the convenience and viability with broadband connections.
"Those iconic red envelopes changed the way people watched shows and movies at home—and they paved the way for the shift to streaming. From the beginning, our members loved the choice and control that direct-to-consumer entertainment offered: the wide variety of the titles and the ability to binge watch entire series," Netflix co-CEO Ted Sarandos stated in a blog post.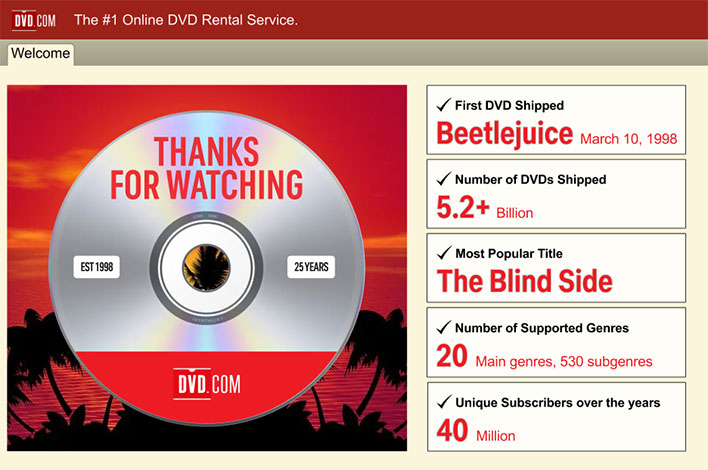 Netflix
shared some fun facts as it
winds down is DVD business
. In case you were wondering, the first DVD it shipped was
Beetlejuice
on March 10, 1998. Since then, it has shipped over 5.2 billion DVDs, with
The Blind Side
ranking as its most popular movie. Netflix also amassed over 40M unique subscribers over the years.
What's most impressive, however, is how Netflix was able to adapt to an ever-changing landscape. Netflix morphed into a streaming service and at one time tried to split its DVD business into a spin-off called Qwikster. Customers didn't react kindly to needing separate accounts and passwords for two Netflix entities and so Qwikster didn't last long, but it continued to send DVDs by mail while growing the more lucrative streaming side.
Netflix just reported nearly $7.9 billion in revenue for the first quarter of 2023, which is a 9.8 percent gain over last year, and almost a $1.6 billion profit for the quarter. It's streaming business now tallies more than 221 million people around the globe.
It hasn't always been without controversy, though. Netflix has been testing a strategy to
crack down on password sharing
in Canada, New Zealand, Spain, and Portugal. In a letter to shareholders, Netflix admitted that the roll outs initially resulted in some membership cancellations, but that over time customers started activating their own accounts after previously having bummed passwords from family and friends.
"For example, in Canada, which we believe is a reliable predictor for the US, our paid membership base is now larger than prior to the launch of paid sharing and revenue growth has accelerated and is now growing faster than in the US," the letter states.
The roll out in the US has been delayed but not for long—Netflix plans to implement the same policies in the US sometime this quarter, which runs through June. Accounts that allow password sharing with family members outside the home will cost more, though Netflix didn't say what that fee will be.
"Today's widespread account sharing (100M+ households) undermines our long-term ability to invest in and improve Netflix, as well as build our business. While our terms of use limit use of Netflix to a household, we recognize this is a change for members who share their account more broadly,"
the shareholder letter adds (PDF)
.
As points of reference, subscribers in Canada have to pay $8 CND per month for each additional user that's outside the home, while it's a little bit cheaper in Spain and Portugal.