NASA's Antares Rocket Blasts Off To The ISS Tonight, How To Watch In Person Or Online
NASA is slated to launch an Antares rocket later this evening from the Mid-Atlantic Regional Spaceport's Pad 0A on Wallops Island, Virginia. The rocket launch may be viewable for residents throughout the mid-Atlantic region depending on how clear the night sky is, as well as online.
Astronauts onboard the International Space Station (
ISS
) are awaiting the 19th commercial resupply service from Northrop Grumman. The Antares rocket will include a payload of science investigations, supplies, and equipment. The ability to watch the
rocket launch
could be viewable by those located along the mid-Atlantic coastline from northern South Carolina to Massachusetts, and as far inland as Pittsburgh, Pennsylvania.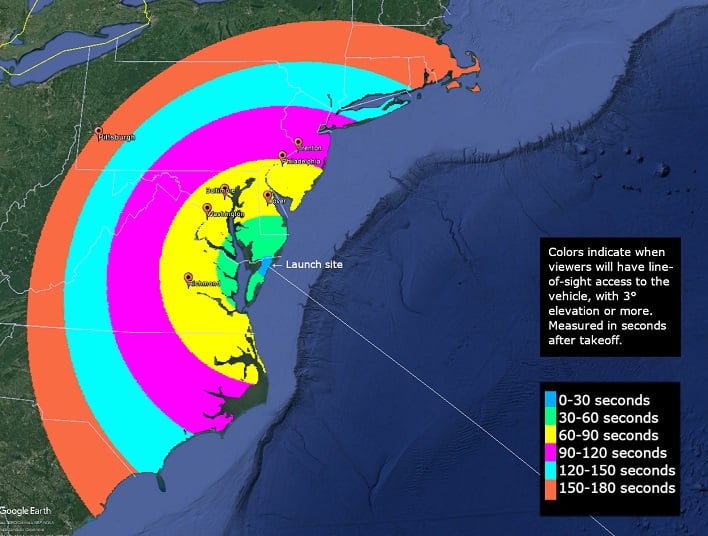 The space agency also lists 6 ideal places to watch a Wallops launch:
Wallops Visitor Center (just 7 miles from Wallops Island).
Chincoteague Island (15 miles from Wallops).
Assateague Island National Seashore, Maryland (approximately 30 miles from Wallops).
Ocean City, Maryland (about 40 miles from Wallops).
Delaware Seashore (around 65 miles from Wallops).
Virginia Beach (70 miles away from Wallops).
For those who are not fortunate enough to watch the launch in person, NASA will be
providing a live feed
of the launch online, with countdown commentary beginning at 8pm EDT on August 1, 2023. It can be viewed live via the video below, as well as on NASA Television and NASA.com, YouTube, and the NASA App.
NASA also provides those attending the launch online the opportunity to pre-register for the event. Those who take advantage of pre-registering will be privy to curated resources, schedule changes, and mission-specific information delivered to their inbox. The space agency will also give early birds a mission-specific collectible stamp for their virtual guest passport.
As of yesterday, NASA reported the Wallops Range 24-hour forecast for the
Antares rocket launch
as 80% favorable. There was a slight chance of cumulus clouds which was the main weather concern for the launch team. The target launch time is 8:31pm EDT Tuesday, August 1, 2023.