NASA Boldly Declares Astronauts Will Walk On Mars, Here's When
NASA
plans on putting boots back on the Moon this decade, but it does not want to stop there. Administrator Bill Nelson said in the most recent State of NASA address, that the space agency also intends on setting foot on the surface of Mars by 2040.
The upcoming
Artemis
missions will be historic in a few ways. Plans are to place the first woman and person of color on the surface of the Moon by the end of the decade. From there, NASA plans to build a space station on the Moon's surface to serve as a waypoint for future space travel to Mars, and eventually beyond. And according to NASA Administrator Bill Nelson, that includes placing humans onto the
Martian surface
.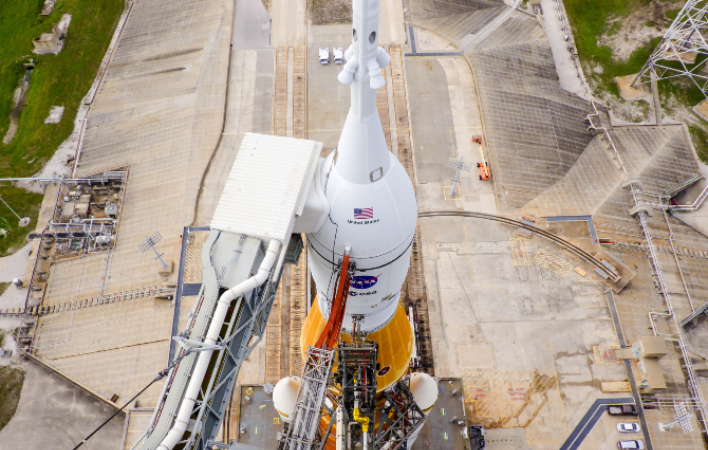 During the press event, Nelson discussed President Biden's proposed 2023 budget for the
space
agency for fiscal year 2023. The budget would provide $7.6 billion for deep space exploration, which would include preparing for future Artemis missions that are slated to put humankind back on the Moon by mid-decade, build a base station on the Moon, and prepare for human exploration of Mars and beyond.
The proposed budget includes $4.7 billion for Common Exploration Systems Development to support lunar missions that include the Orion spacecraft and Space Launch System (SLS). An additional $1.5 billion will be earmarked for astronaut Moon landers aimed at increasing competition in the development of the final mode of transportation to be used to place humankind back on the lunar surface.
But it was what Nelson said about NASA's plans beyond the Moon that captured the attention of many. He stated, "Our goal is to apply what we've learned living and operating on the moon and continue out into the solar system. Our plan is for humans to walk on Mars by 2040."
As of right now, the un-crewed Artemis I mission is scheduled to launch later this year. The hope is to have the first crewed mission follow in 2024, with a crewed launch to follow that will put boots back on the lunar surface sometime in 2025-2026. From there, NASA has planned missions until about 2027 with more Moon landings.
Nelson
said, "Greater than a number, statistic, or fact is what the President's budget request represents." He added, "This budget reflects the Biden-Harris Administration's confidence in the extraordinary workforce that makes NASA the best place to work in the federal government. It's an investment in the businesses and universities that partner with NASA in all 50 states and the good-paying jobs they are creating. It's a signal of support for our missions in a new era of exploration and discovery."
Top Image Courtesy of NASA/SpaceX