Musk Shares Stunning Shot Of SpaceX's First V2 Mini Starlink Satellite Hovering Over Earth
Elon Musk shared a first-hand view of the first "V2 Mini" Starlink satellites being released above Earth on his Twitter account. The new V2 Minis include key technologies that'll boost Starlink coverage and performance, such as more powerful phased array antennas and the use of E-band for backhaul, which should enable Starlink to provide 4x more capacity per satellite than previous generations.
SpaceX's
Starlink
satellite-based broaband service has been providing internet access to many around the world, especially in more remote or rural areas where there are little to no options for internet connectivity. The satellite-based internet service has also been providing critical internet service to those in Ukraine, since the early part of the war against Russia. As more satellites go up, it seems more people are wanting to take advantage of the service. This has left many either on a waitlist, or using the RV version of the satellite uplink.
SpaceX
aims to help remedy the situation with a new version of its satellite, the V2 Mini.
The new satellites are expected to bring faster speeds to more users. SpaceX says that the new satellites have significantly more throughput per satellite than first-gen systems, meaning end users will receive more bandwidth and increased reliability, and each satellite can hanlde more users.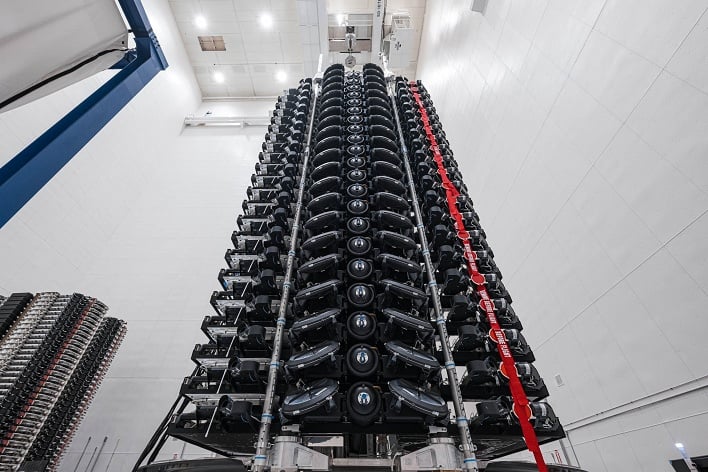 SpaceX has launched nearly 4,000 satellites since it was granted authority to do so in 2018. With so many satellites being launched into orbit around the Earth, SpaceX says it is continuing to "create a safe and sustainable space environment." The space company says that it includes a critical design element for its satellite operations that will ensure there is no debris remaining in space for longer than five years, should a satellite "become non-maneuverable."
The next scheduled launch to send more
satellites
up into space is scheduled for March 1, 2023. The payload of 51 satellites will be launched aboard a Falcon 9 from Space Launch Complex 4 East at Vandenberg Space Force Base in California. The launch can be viewed live via the
SpaceX website
.