MSI Spatium M570 Pro Joins Race To Be The First-Ever 14GB/s PCIe 5.0 SSD
There's an important distinction between a product's announcement and its actual release even if that's not always made clear in a press release or media coverage. We bring this up because MSI has pulled back the curtain on its Spatium M570 Pro, its newest flagship PCIe 5.0 solid state drive. It comes with the claim of being the "world's first 14GB/s SSD" though its eventual release to retail will ultimately determine if that's accurate.
It's notable that TeamGroup this week also announced a 14GB/s SSD, the
T-Force Z54A series
. TeamGroup rates the drive as being capable of hitting sequential read and write speeds of up to 14GB/s and 10GB/s, respectively, though it also showed off a CrystalDiskMark benchmark run in which it achieved around a 14.3GB/s read speed (14,365.51MB/s, to be precise) and 11.5GB/s for writes (11,547.72MB/s).
So wouldn't TeamGroup technically be the first to launch a 14GB/s SSD? Who cares because you can't actually buy it right now. Being the first to unveil or announce or launch a product means very little compared to being the first to release the same product to retail, and that's what we're waiting on.
Here's a look at the PCIe 5.0 SSD options that are available to buy right now...
That's an incredibly small list and one of them is on backorder. We included it anyway because you can actually place an order, you just might have to wait a bit for it arrive. Additionally, we couldn't find a single PCIe 5.0 SSD on Amazon—those are all Newegg listings.
Just as importantly, those drives all top out at around 10GB/s. That means the race to release a 14GB/s SSD to retail is very much in play, and this brings us back to the Spatium M570 Pro. MSI is showing off the drive at Computex where it confirmed the drive is equipped with
Phison's E26 controller
(TeamGroup's drive uses an InnoGrit IG5666 controller).
That's the same controller as found on Corsair's MP700, which some reviews found to exhibit a
thermal shutdown issue
. Phison said it figured out the issue and fixed it in firmware, which its SSD partners are in the process of validating and releasing.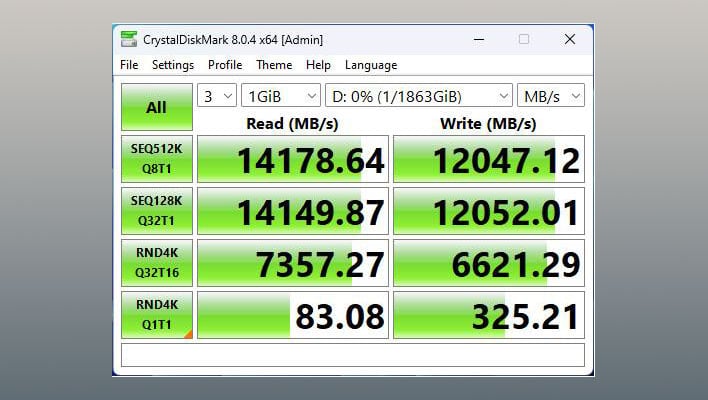 Source: MSI
MSI shared a CrystalDiskMark screenshot that shows the
Spatium M570 Pro
achieving 14,178.64MB/s sequential read speed and 12,047.12MB/s sequential write speed. Assuming MSI is confident that those figures will hold up, it's likely it will advertise the drive as offering read and write speeds of up to 14GB/s and 12GB/s, respectively, when it releases to retail.
It's anyone's guess when that will happen, though. MSI has not yet revealed a release date or details like capacity options and pricing. However, if the top image is any indication, it will come with a tall air-cooled heatsink to keeps (and throttling) in check.