MSI Unveils Project Zero Motherboards With Hidden Connectors For AMD And Intel PCs
It's a pain point for any system builder: you spend the time to coordinate parts that will look good together, and then you go to wire it all up and it doesn't matter because even with good cable management your aesthetic is still ruined by
the heavy cable bundles
required for power and data connections.
A few companies have
started to offer solutions
for this problem, but possibly the most assertive about the issue has been MSI. The company originally teased its "Project Zero" hardware at Computex, and now there are product pages up for two motherboards in the series: the B650M Project Zero, and the B760M Project Zero.
The key gimmick with these boards is that basically all of their internal I/O and power connectors are moved to the back of the board. The only things left on the front are the CPU socket, the RAM slots, the PCIe slots, and M.2 sockets.
As you could probably guess from the name, both boards are micro-ATX form factor. The B650M is a socket AM5 motherboard sporting
AMD's B650 chipset
, while the B760M is predictably an LGA 1700 motherboard equipped with Intel's B760M chipset. Aside from those changes, the boards are fairly similar; both have HDMI and DisplayPort connectors, both get four SATA ports and two M.2 sockets, and both come with 2.5G Ethernet and Wi-Fi 6E.
The B760M Project Zero does come with a second PCIe x16 slot (x4 electrical), and that's likely at least part of why it doesn't get the full-coverage armor treatment the way the B650M Project Zero does. That's the most visible difference in the two boards.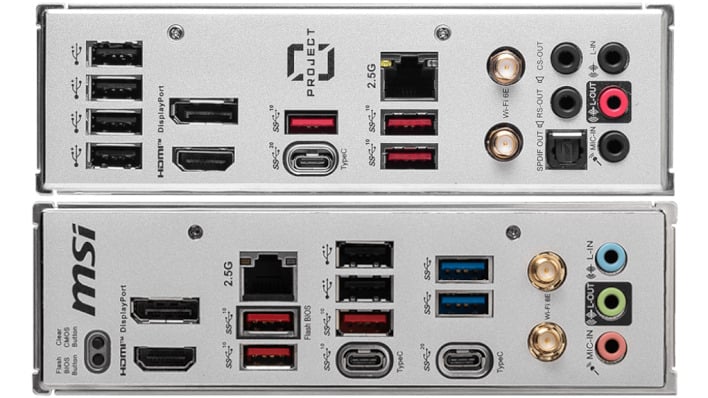 They have broadly similar rear I/O, although the AM5 board trades two USB-A 2.0 ports and an optical audio connector for a pair of USB 3.2 Gen1 (5 Gbps) ports and a second USB-C connector supporting USB 3.2 Gen 2 (10 Gbps). Both boards get a single USB-C 2x2 (20 Gbps) port and a few USB-A 10 Gbps ports. The B650M Project Zero also gets rear-mounted CMOS flash and reset buttons, which is convenient.
If you're after a more high-end experience, frequent leaker Алексей (
@wxnod
on Xwitter) shared a screenshot of what looks like a datasheet for a Z790 Project Zero. That full-sized ATX board will apparently include Wi-Fi 7 and two more M.2 sockets (for a total of four) in addition to a pile of extra USB and extra "armor" on the front, at least in comparison to the B760M.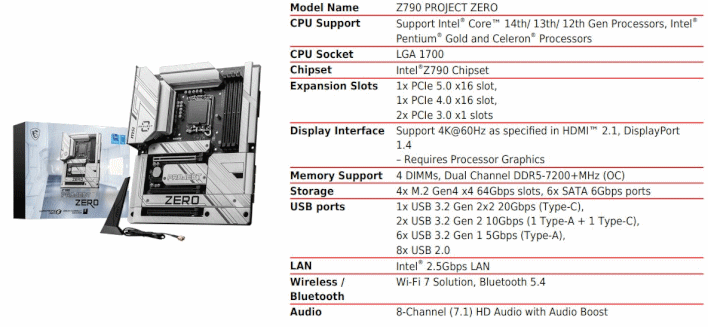 Of course, with a motherboard like this, you're going to have to be extra-careful about what chassis you choose. With all the connections on the back, you'll need a case that has holes to accommodate the necessary wiring.
MSI recommends
some compatible cases on
the product pages
, including from brands like Lian-Li, SilverStone, and Sama, although it is apparently introducing its own cases—the MAG PANO M100 PZ Series—for these boards as well.
Unfortunately, as usual with this sort of thing, MSI hasn't disclosed release dates for any of this hardware yet.
Videocardz
claims
that MSI plans to launch the boards and case at the same time, so keep an eye on store shelves if you're after the absolute cleanest-looking build possible.