Moto G Stylus 5G For 2023 Budget Android Phone Arrives For $100 Less Than The 2022 Model
Motorola has been on a tear lately, announcing a new phone every time we look away. In recent weeks, Moto has revealed the
2023 Edge+
, Moto G Stylus, and Moto G 5G. Now, there's yet another new Moto phone, and this one's got a stylus, too. The Moto G Stylus 5G is a pumped up version of the non-5G stylus with a Snapdragon chip, a high refresh screen, and a $400 price tag. That's $100 less compared to last year's Stylus 5G and the same as
the 2021 Stylus 5G
.
The
2023 Moto G Stylus 5G
sports a 6.6-inch 1080p LCD screen with a 120Hz refresh (a notable upgrade from the 720p LCD on the non-5G version). Inside, this is one of the first phones to have the Snapdragon 6 Gen 1 chip in North America, which is an eight-core chip built on a 4nm process node. The Stylus 5G will have either 4GB or 6GB of RAM with either 128GB or 256GB of storage. The 5,000mAh battery should keep the Stylus 5G running for multiple days, too.
This phone's namesake accessory slots into the frame and removing the stylus will present quick access to several pen-optimized features like a lasso selection tool, live messages, and handwriting recognition. However, this is just a capacitive stylus, so you won't get pressure sensitivity or hover interactions like you do with Samsung's inductive stylus tech.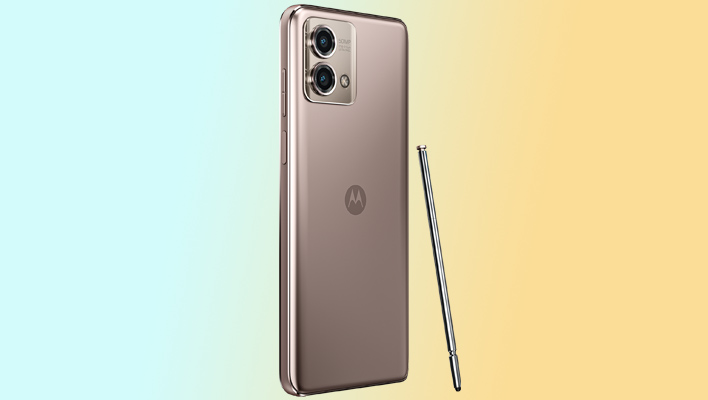 Budget phones often skimp on the cameras, sometimes boosting the number of lenses on the back by adding useless monochrome or macro modules.
Motorola
doesn't do that on the latest G Stylus. This phone has a 50MP primary and an 8MP secondary, with a 16MP selfie camera on the front. We still don't expect miracles from a budget Motorola camera, but it's good to see priorities are in order.
The Moto G Stylus 5G runs Android 13 out of the box, with Motorola's light-touch UI skin. Unfortunately, Moto is only promising a single OS update for this phone, along with three years of security patches.
Access to 5G networks is naturally the biggest upgrade over the non-5G Stylus, and this phone has wide support. You'll be able to pick up a Moto G Stylus 5G first on Cricket Wireless starting June 2. The phone will be available unlocked from Motorola, Amazon, Best Buy, and other retailers on June 16. The unlocked variant will have 5G on AT&T, T-Mobile, Google Fi, and more.