Microsoft Set To Push An Interstitial Nag Screen To Windows 7 Hold-Outs In January
Microsoft really wants its customers to
abandon the Windows 7 operating system
, and for good reason. For starters, Windows 7 was released over a decade ago, and has by this point been superseded by Windows 8.x and Windows 10. In addition, with respect to performance, security, and functionality, Windows 10 is by far the superior choice in most cases.
More importantly, supporting Windows 7 for this long consumes company resources that could be otherwise spent on more important things -- like maintaining Windows 10 and its successors. With this in mind, Microsoft has set a January 14th, 2020 end date for Windows 7 extended support. At that point, the only enterprise customers that pay for Windows 7 Extended Security Updates (ESUs) will continue to receive updates -- and even then, only until 2023.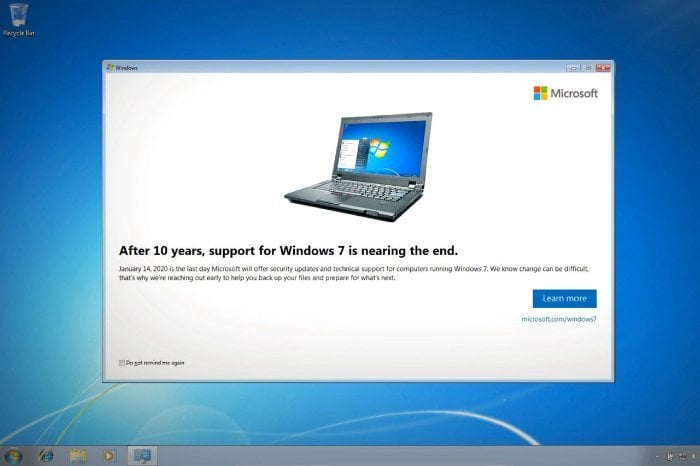 With this in mind, Microsoft is going to make things a little bit more annoying for stubborn Windows 7 users starting on January 15th, 2020. Customers will then see a full-screen nag notification. This is change from the standard pop-up that has been bugging users since earlier this year seen in the image above.
Although Microsoft hasn't provided an image of what this new full-screen pop-up will look like, it says that it will explain "the risk of continuing to use Windows 7 Service Pack 1 after it reaches end of support on January 14, 2020" and that it "will remain on the screen until you interact with it."
According to Microsoft, theses editions of Windows 7 will begin seeing the pop-ups on January 15th:
Windows 7 Starter
Windows 7 Home Basic
Windows 7 Home Premium
Windows 7 Professional
Windows 7 Ultimate
The only users that will escape the pop-ups will be Windows 7 Professional systems that are enrolled in ESUs. Microsoft says that the capability to enable these pop-ups has been added with KB4530734, which was released yesterday.