MediaTek Dimensity 9200+ Kicks Up The Clocks To Challenge Snapdragon In Flagship Phones
It's only been around six months since MediaTek rolled out its
Dimensity 9200
system-on-chip (SoC) for flagship 5G smartphones. But as has become somewhat customary, chip designers sprinkle in iterative upgrades in between major new silicon launches. That's what we have here with MediaTek introducing the Dimensity 9200+ with boosted clocks.
The Dimensity 9200+ retains the same highfalutin features that the non-plus variant brought to the table, including hardware-based ray tracing support and baked in
Wi-Fi 7 connectivity
. It's also made up of the same 1+3+4 core configuration designed around the
Arm v9 architecture
manufactured on a 4-nanometer node. However, each of those cores is clocked higher, including the efficiency ones.
For the Dimensity 9200+, MediaTek pushed the primary
Arm Cortex-X3
ultra-core's top speed to 3.35GHz, compared to 3.05GHz on the Dimensity 9200. It also boosted the three Cortex-A715 super-cores to 3GHz when redlining, versus 2.85GHz on the non-plus model, while the four Cortex-A510 efficiency cores now go up to 2GHz, which is a bump from 1.8GHz.
So to break it down, MediaTek goosed the ultra-core by 300MHz for around a 9.8 percent gain, the super-cores by 150MHz for around a 5.3 percent bump, and the efficiency cores by 200MHz for around an 11.1 percent boost in the maximum clock speeds. Not too shabby at all.
MediaTek didn't just focus on the computing cores, it's also coaxing more performance from the GPU. Note that with the Dimensity 9200, MediaTek touted a massive 32 percent performance gain in GPU performance at 41 percent less power compared to the Dimensity 9000, based on GFXBench's Manhattan 3.0 test. Now with the introduction of the Dimensity 9200+, MediaTek says it boosted the chipset's Immortalis-G715 GPU by 17 percent.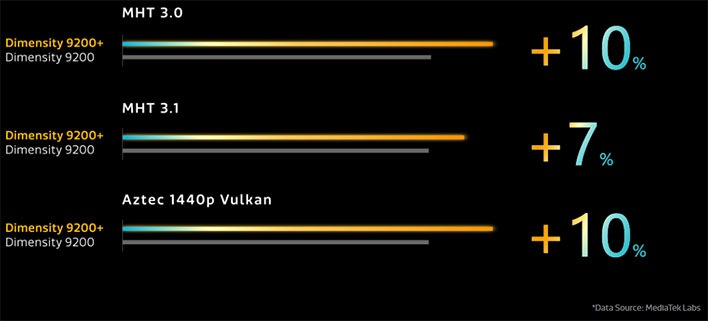 According to MediaTek, this translates into 10 percent better performance in Manhattan 3.0 versus the non-plus variant, along with a 7 percent gain in Manhattan 3.1 and a 10 percent improvement in GFXBench's Aztec 1440p Vulkan test.
Of course, the more interesting comparison is between the competition. MediaTek shared some power efficiency figures showing how the Dimensity 9200+ stacks up against a "2023 flagship alternative," which presumably indicates Qualcomm's
Snapdragon 8 Gen 2
SoC.
According to MediaTek, the Dimensity 9200+ is up to 21 percent more power efficient in games. The above graph is a little light on details, but MediaTek is confident that it has best chipset for high-end gaming phones. MediaTek also claims it wins in power efficiency for ray-traced workloads, with the Dimensity 9200+ consuming 10 percent less power than the competition.
Despite the boosted clocks for faster performance, MediaTek appears most interested in highlighting the chipset's purported power efficiency advantage over the competition. In addition to games, MediaTek says the Dimensity 9200+ consumes 35 percent less power while messaging and 36 percent less power when connecting to Wi-Fi hotspots.
"We continue to raise the bar for flagship performance and power efficiency with the Dimensity 9200+, ensuring device makers have access to the most powerful mobile gaming features available today," said Dr. Yenchi Lee, Deputy General Manager of MediaTek's Wireless Communications Business Unit. "With faster ray tracing and fluid gameplay at high frame rates, combined with MediaTek's power saving technologies, you can enjoy incredible visuals, epic effects and extended battery life."
The overarching caveat is that MediaTek's presence in the smartphone market is comparatively limited, at least in the US. That's to say, you're not likely to waltz into a Best Buy and walk out with a phone built around a Dimensity chip. That said, companies like ASUS, OnePlus, Oppo, Vivo, and Xiaomi have been known to employ MediaTek SoCs in certain markets.
MediaTek says smartphones based on the
Dimensity 9200+
will begin releasing this month.