MediaTek Dimensity 8300 Flexes Generative AI Muscle To Arm Wrestle Snapdragon 7 Gen 3
Mediatek
is aiming for the premium-oriented midrange smartphone market with the release of the Dimensity 8300 chipset. This new chip uses
TSMC's
2nd generation 4nm process and Arm's latest v9 CPU architecture. It's an eight core CPU that packs 4 Arm Cortex-A715 cores along with 4 Cortex-A510 cores. There is also an Arm Mali-G615 GPU onboard.
With the use of all these technologies Mediatek states that "the Dimensity 8300 boasts 20% faster CPU performance and 30% peak gains in power efficiency compared to the previous generation chipset. Additionally, the Dimensity 8300's Mali-G615 MC6 GPU upgrade provides up to 60% greater performance and 55% better power efficiency."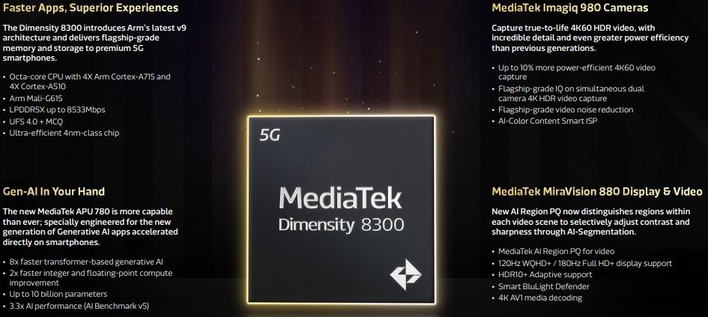 As with most new products coming out, Mediatek will attempt to make AI a big selling point for the Dimensity 8300. The company claims that devices powered by the new chip will see an 8x improvement in transformer-based generative AI performance, a 3.3x performance uplift in AI Benchmark v5, and can support up to 10 billion parameters. All this AI muscle comes from the APU 780, which has a similar architecture to the Dimensity 9300 SoC that Mediatek refers to as its flagship chip family.
The Dimensity 8300 will also have a modern feature set when it comes to connectivity, which is more likely to be felt by users during daily tasks than the AI offerings Mediatek is touting. Users will get Wi-Fi 6Ewith 160 MHz bandwidth and up to 5.17Gbps 5G download speeds with 3CC carrier aggregation support.
Products using the Dimensity 8300 will start to become
available globally
before the end of 2023.