Massive Motorola Razr 40 Leak Reveals Flip Phone's Specs, Pricing And Slick Design
Another massive leak just showed off what the Motorola Razr 40 Ultra will likely look like and what its key specs might be when it launches in the Summer.
Come June 1st, Motorola is expected to add a couple of new foldable phones to its lineup with the Motorola Razr 40 and 40 Ultra. In the meantime,
91mobiles Hindi
was graced with exclusive renders of the Ultra, pretty much confirming what
we had previously reported
. From the pictures here, the biggest focus is on that massive cover display that practically takes up the entire folded half. Besides the cutouts for the cameras (32MP primary, 8MP UWA) and flash, the cover screen offers plenty of real estate to complete tasks even when folded. This comes as no surprise as w
e're expecting this new Razr to continue the tradition of allowing users fully interact with pretty much any app directly on the front screen without having to ever open the phone.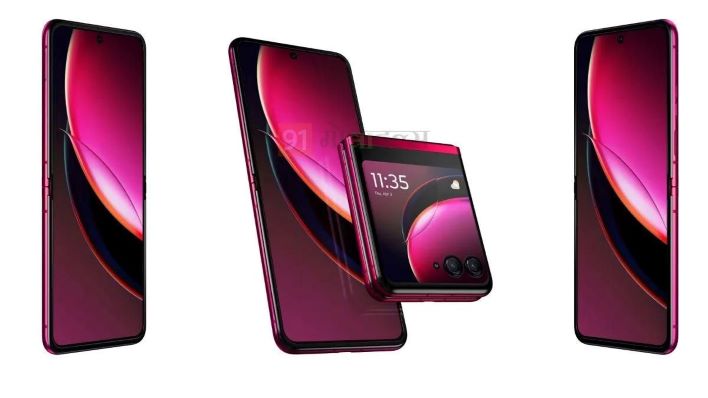 The outer display is claimed to be a 3.4-inch 60Hz OLED, while the main display will be a 6.7-inch FHD+ pOLED (i.e. LG-sourced) display. The renders show a top-center 32MP punch hole selfie camera, as well as three colorways - Black, Blue, and Red. Dibs on the Blue version, which looks particularly snazzy with a hue that's more towards a silvery blue. However, what the renders don't tell us is how well Motorola will be able to hide the display crease. Unlike the non-existent crease in the pictures posted here, it's quite certain that there will be a dip—it's just that no one knows how deep it will be.

Inside, the Razr 40 series is said to pack a Snapdragon 8+ Gen 1 chipset, paired with up to 8GB/256GB (memory/storage). It's surprising Motorola didn't go with the latest Snapdragon 8 Gen 2 SoC. Aside from performance gains, the newer, significantly more efficient chipset would've been better matched to the rather small 3,500 mAh battery and thus, battery life.

Pricing of the Razr 40 Ultra is not know, but the leaker thinks it'll be approximately $1,000, which is exactly what Samsung charged for its Flip 4 at launch.