Intel's LGA 1851 Socket For 15th Gen Arrow Lake CPUs Detailed In 3D Schematics
Igor's Lab has provided some updates on Arrow Lake-S and its associated LGA 1851 socket, including 3D schematics of the CPU loading mechanism (bracket) and the chipset itself. Igor also unveiled a couple of updates on the chipset models we can expect with LGA Socket 1851, including the supposed cancellation of the "H870" mid-range chipset.
For the complete documentation on LGA 1851 and the features it will provide over LGA 1700, be sure to check out our
previous coverage
. But to summarize: LGA 1851 will arrive with Intel's 15th Gen Arrow Lake-S CPU lineup in 2024 and will offer greatly expanding PCIe storage connectivity compared to LGA 1700. Four additional CPU PCIe lanes have been introduced that will enable up to two M.2 SSDs to be connected directly to the CPU (instead of just one). Four of the lanes have also been upgraded to PCIe Gen 5 speeds to work with the latest PCIe Gen 5 SSDs.
Igor's new 3D renders — while cool looking — don't reveal anything that we haven't seen already from leaked spec sheets. The first 3D image shows off the LGA 1851 socket with the CPU cover and IHS bracket in place, plus the rear backplate connecting the bracket to the PCB. The second 3D image shows off one of the new chipset models LGA 1851 will be launching with (presumably it is Z890), including the front area where the chipset die is located and the ball grid array at the rear where the chipset is connected to the motherboard. Again, these renders don't disclose anything specific, especially since LGA 1851 and 1700 share the exact same 37.5mm x 45mm form factor, but they are cool to look at.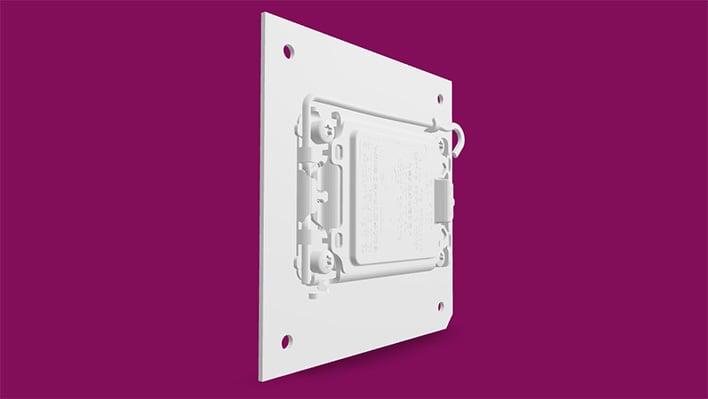 The real update Igor provided is new details surrounding Intel's 800-series chipsets that will be paired with the LGA 1851 socket. According to Igor, there will be three consumer and two workstation chipset models, including Z890, B860, H810, W880, and Q870. Apparently, H870 has been dropped, marking the first time in years that we won't be seeing a mid-range H-series chipset in Intel's lineup, if true.
Z890 will reportedly come with 60 HSIO channels, split between 26 lanes for the CPU and 34 for the PCH. B860 and H810 will come with 44 and 32 HSIO channels respectively. Z890m W880 and Q870 will all come with 8 DMI 4.0 lanes that connect the CPU to the chipset, while B860 and H810 will only offer four. PCIe bifurcation has also been expanded, enabling three separate devices to run off of the CPU's 16 PCIe lanes instead of just two, using an 8x/4x/4x configuration.
Igor also revealed that LGA 1851 will exist for at least two years, and will power at least two generations of chips including Arrow Lake-S and Lunar Lake-S CPUs. With the cancellation of Meteor Lake-S in favor of
Raptor Lake Refresh
, Arrow Lake-S will be the first CPU lineup to utilize
LGA 1851
starting in 2024.