Intel Core i9-14900KF 6GHz Raptor Lake Refresh CPU Impresses In Early Benchmarks
Newly found benchmarks of Intel's upcoming Core i9-14900KF flagship desktop processor have surfaced on the Geekbench browser. The results show the Raptor Lake Refresh chip noticeably outperforming Intel's current Core i9-13900KS CPU in the multi-threaded benchmark specifically. This wasn't the case in
previous results
that have leaked, in which the 14900KF actually loses to the 13900KS in Geekbench 5's multi-threaded test.
The Core i9-14900KF is part of Intel's upcoming next-generation CPU lineup, often referred to as
Raptor Lake Refresh
. As the name implies, the new lineup will feature a refreshed version of Intel's Raptor Lake CPU architecture, with rumors suggesting additional e-cores and higher clock speeds on some models. The Core i9-14900KF in particular is rumored to have a maximum Thermal Velocity Boost of 6GHz, which is 200MHz faster than the i9-13900K, matching the $730 i9-13900KS.
The new results include three separate Geekbench 5 listings, with single-core scores ranging between 2,412 and 3,346 points, and multi-core scores ranging between 22,895 and 26,972. If we average the scores together, the Core i9-14900KF's single-core results come out to 3,072 points, and 24,306 points for the multi-core test.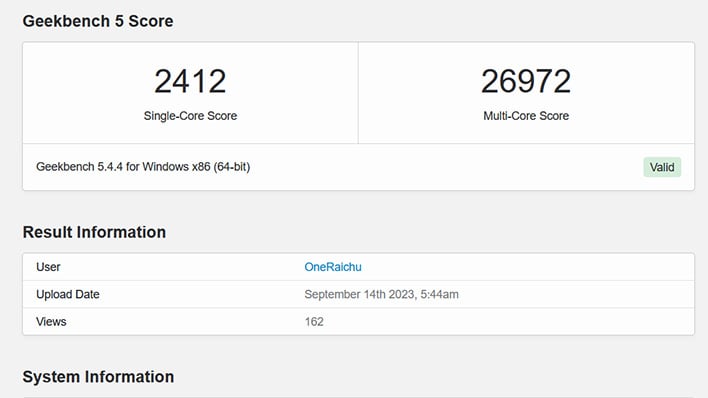 If we look at the average score taken between the three separate listings specifically, the upcoming Core i9-14900KF actually ends up 0.5% slower than the Core i9-13900KS in the Geekbench 5 single-core benchmark. However, in the multi-core benchmark the 14900KF comes out top by about 11%. If we were to compare the 14900KF to the lower clocked 13900K, the gap widens even further.
The new scores don't show complete domination of the 14900KF over its predecessors, however, its scores are definitely better than previous reports that have leaked recently. That said, with only a rumored 200MHz improvement over the 13900K, and a near identical clock speed behavior to the 13900KS, it should be expected that the i9-14900K/KF won't be that much quicker than its predecessor.
We won't have to wait long for official benchmarks to come out, Raptor Lake Refresh is reportedly arriving next month on October 17th. By then we'll know how fast the i9-14900K/KF
really is
.