InWin's Case Monsters Is A Brilliant Modular Play That Teaches Kids How To Build PCs
Left-field
PC cases
specialist InWin has introduced its new Case Monsters series at CES 2023. The stated aim is to bring "the fun and satisfaction of PC building to a new generation," with customizable PC case designs that will appeal to children. InWin is making multi-piece modular kits ready to be assembled into either ATX or mini-ITX systems, and they are based on eight fun, exciting, and cute characters. To help customers decide on the options that will appeal to their children, InWin has put together an interactive playroom themed website dubbed the
iBuildiShare Initiative
. You can also watch the video embedded below for a good overview of these new PC case designs.
Summing up this new initiative, InWin is simply offering two of its existing PC cases in colors and finishes, and with accessories to appeal to youngsters (or the young at heart). The ATX mid-tower Airforce case comes in the following designs; Plannie the airplane, Frank(enstein)'s monster, Robert the robot, and Aiso the robot dog. They all feature custom colors, front air intake designs, and arms that can be used as headphone holders etc. The
mini-ITX
Explorer case are provided in designs based on; Lufer the bat, Banbi the deer, Finnie the antelope, and Calico the cat. These also feature custom colors and finishes, with the ears / antlers of the respective characters serving as headphone holders.
Moving onto the technical specs, you can find the full set of spec for both the ATX or mini-ITX systems on InWin's
iBuildShare site
. In brief, the InWin Airforce-based designs have plenty of room for large components and lots of cooling. Specifically, you can install up to E-ATX motherboards, 170mm CPU coolers, twin
360mm radiators
, 390mm GPUs, as well as six 3.5/2.5-inch storage devices. Front I/O includes 1 x USB 3.2 Gen 2x2 Type-C, 2 x USB 3.2 Gen 1, plus HD Audio. This case should be enough for an ambitious and powerful system. The case measures 537 x 270 x 528mm, or 21.1 x 10.6 x 20.7-inches and weighs 6.9 kg / 15.2 lbs unpopulated.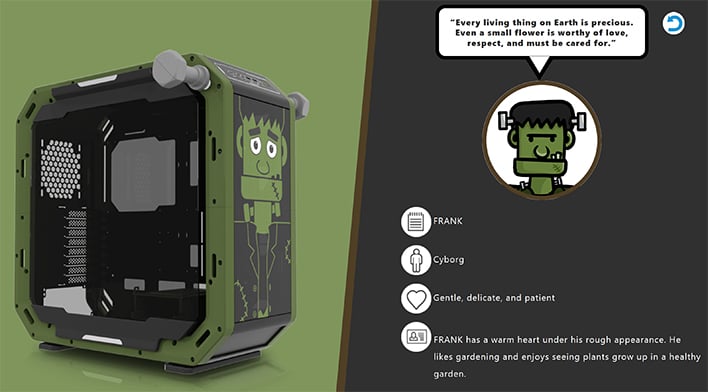 With the more compact InWin Explorer design, your choice is limited to a mini-ITX motherboard. However, it still has space for up to a 140mm tall cooler, up to a 240mm, a 330mm GPU, and up to three SATA storage devices. Front I/O consists of 1 x USB 3.2 Gen 2x2 Type-C, 2 x USB 3.2 Gen 1, and HD Audio. Many children (or adults) will be pleased with the performance that can be had from a mini-ITX build in 2023. This case measures 390 x 272 x 310mm, or 15.3 x 10.7 x 12.2-inches, and weighs 3.75 kg / 8.26 lbs unpopulated.

We don't have pricing or availability details about the new Case Monsters Modular Kits at the time of writing. InWin should have got them ready for Christmas 2022 orders, but has now missed that opportunity. Some pricing guidance can be found in current retail products, though. For example, a standard InWin Airforce case is currently available direct from the InWin US store for $209, where you will also find an 'ordinary' InWin Explorer at $119. We think these customized and accessorized versions will be a few dollars more.