Intel's Arc A770 GPU Is Getting A Huge Stable Diffusion Performance Boost
Everyone loves an underdog, especially when the very premise is wrapped up in a paradox of sorts. Intel has been one of the largest technology companies for decades, having pioneered much of what we take for granted today with PC processors. However, Intel's entry into the PC graphics card market has put it in a slightly unusual position against its juggernaut rival NVIDIA, as well as AMD's legacy of competitive GPUs.
As such, Intel is now regularly signaling its intent to compete in the
GPU market
. With a new optimized model for generative AI, driven with tools from Microsoft, Intel hopes to more than double the Stable Diffusion performance of the Intel Arc A770 GPU. Stable Diffusion is a popular generative AI tool for creating realistic images for various uses cases.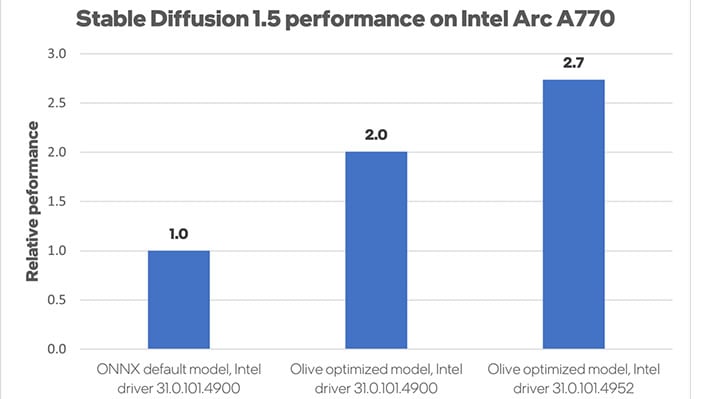 Although it didn't offer class-leading performance at the time, the
Intel Arc A770 GPU
was an exciting product upon release due to its strong value proposition. The Arc A770 wasn't without some major drawbacks, however. Early drivers left lots of performance on the table and some popular game titles suffered from significant bugs. To prove its commitment to Arc and discrete graphics in general though, Intel consistently pumped out
driver updates
covering a wide range of both old and new titles, offering dramatic
new-found performance
. In addition, Intel appears at the ready to bring this same effort to Arc generative AI optimization. Along with a closely-knit working relationship with Microsoft, it looks like we can expect more positive momentum for Arc with AI workloads as well.
Intel has utilized Microsoft's hardware-aware Olive toolchain to optimized the Stable Diffusion model along with its recent driver update, promising upwards of a 2.7x cumulative improvement. It cannot be ignored how the Intel Arc A770 has some great Easter egg performance benefits, generative AI being another in a long list. With impressive ray tracing performance in its weight class, and XeSS upscaling coupled with some generous VRAM allocation in the 16GB model, there is plenty under the hood of this underdog GPU. Content creators have also sung the praises for this GPU for its multi-media encoding and decoding chops.
With a
price tag in the $300's
for the 16GB model, the Intel Arc A770 certainly poses some attractive competition with NVIDIA and AMD offerings for those wanting to experience Stable Diffusion.