Intel Acknowledges Issues Running Starfield On Arc Graphics, Fix Incoming
As Bethesda's highly-anticipated
Starfield
video game lifted off into early access, those who had pre-purchased either the Premium or Constellation Edition were reporting having issues. Gamers with an Intel Arc graphics card said they were enduring a large amount of problems, as well as having the game crash altogether. Others who were attempting to simply launch the game via Game Pass were met with the message that they were too early and to check back later.
Intel was quick to acknowledge that its Arc graphics were struggling to run
Starfield
in a tweet, remarking, "We are aware of issues with @StarfieldGame on Intel Arc graphics. We are working to improve the experience for the game's general release next week."
Starfield
ahead of the worldwide release date of September 6, 2023. One disgruntled gamer responded, "well if this is the investment you want to put in your driver development team, for one of the major release of the years, then Alchemist will be my last attempt at Xe....back to Nvidia asap...."
Starfield
are braindead and stupid." They went on to add, "Firstly it should not be required to fix a broken game in drivers and secondly how do people think Intel didn't care to make a day 0 driver? Are you people nuts?"
While those playing on Intel Arc graphics were battling issues, and each other, others were simply having issues getting the game to launch at all. Many were reporting on social media that when they attempted to launch
Starfield
from the Game Pass on PC, they were met with the message that they were too early. Luckily, however, this issue slowly sorted itself out for most, as gamers began saying they were able to gain access after spamming the "Play" button over and over.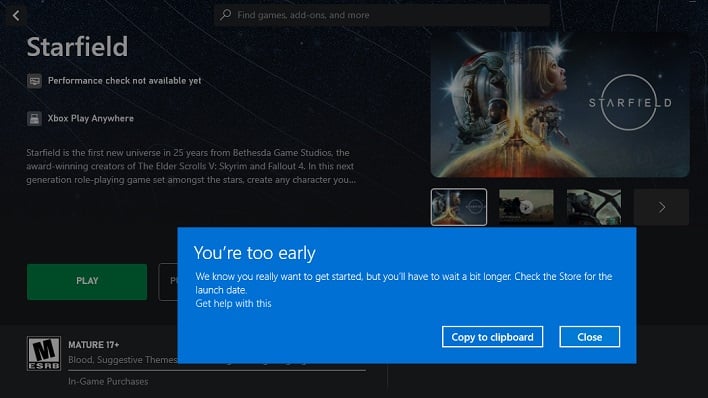 While there were some who were having trouble playing the game due to other issues, many others were saying the game was running just fine and praising the gameplay. It is a reminder to all that developing a game these days is not easy, especially across multiple platforms like Xbox and PC. While it could be argued that Bethesda had over 20 years to get it right, the chance that a game will have issues at launch seems to be more of the norm than not. Even the highly praised
Baldur's Gate 3
release just had
over 1,000 bugs
patched.
Starfield
is set to launch for everyone who has either bought the Standard Edition, or who plans to play it on Xbox without upgrading to the Premium Edition, on September 6, 2023.