Intel Core Ultra 7 CPU Benchmark Leak Gives A First Look At Meteor Lake's Performance
If you read that headline and thought, "what the heck is a Core Ultra," you haven't been keeping up with your rumors, dear reader. Indeed, Intel seems to be
readying a branding shift
away from "Core i" and toward "Core Ultra," at least for its Meteor Lake mobile parts.
So this latest leak is for a Core Ultra 7 1003H CPU, and it comes to us via the Benchleaks bot on Twitter (
@BenchLeaks
, naturally). That processor popped up in the Puget Systems Pugetbench database, in a result that has now been deleted from the database but still exists in our hearts and minds—as well as in screenshots. The result itself is actually kind of pathetic, but we wouldn't put much stock in that; this is likely an early reference platform and the performance is almost certainly not representative of the final product.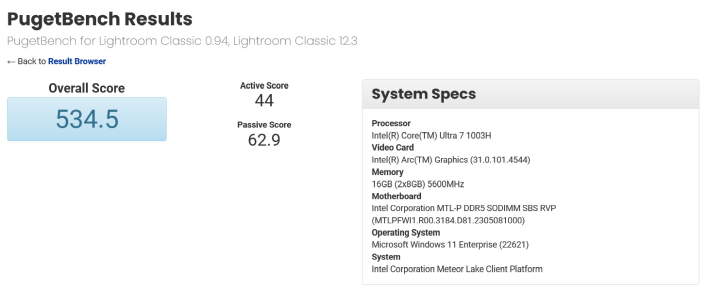 What's interesting is the "System Specs" section of the listing over to the right side, which reveals that the processor in question was tested with a pair of DDR5 SODIMMs running at 5600 MT/s, and that its included graphics may well be branded Arc, just like the
blue team's discrete GPUs
. Sadly, PugetBench doesn't reveal the core configuration or clock speed of the tested CPU, so there's not much else to glean from this leak.

Intel's Bernard Fernandes
acknowledged
that the company will be doing a branding update with the launch of Meteor Lake, so the Core Ultra nomenclature is almost certainly confirmed. What isn't confirmed is whether it will be applied to the whole range of Meteor Lake processors or whether "Ultra" will be accompanied by other descriptors, like perhaps "Super" or Intel's old favorite, "Extreme".
On the topic of Meteor Lake, Intel actually
just put up a blog post
talking about the upcoming CPUs and proselytizing the benefits of those chips' integrated Versatile Processing Units, or VPUs. These are AI coprocessors that are intended to be used primarily to accelerate edge-based AI inference tasks, like image processing.

As part of that post, Intel casually mentions that it plans to ship "millions" of Meteor Lake processors over the next year. If that's going to happen, the company needs to start shipping them sooner than later, so we might not be far off at all from the launch of Intel's 14th generation CPUs.