Intel Comet Lake Core i9 10-Core 20-Thread Beast Chip Shows Big Performance Gains In Leaked Doc
In case you've been living under a rock, then you know that Intel has a new family of desktop processors on the way developed under the codename Comet Lake. These
Comet Lake-S processors
are still built on 14nm process tech (which has been refined again, and again) and will use the new LGA-1200 socket, which will require new motherboards.
With that being said, a new internal Intel doc has leaked onto the web, and it is giving us a bit of insight into the flagship for the upcoming Comet Lake-S family: the Core i9-10900K. As you might surmise from its naming, the Core i9-10900K will replace the Core i9-9900K in Intel's lineup. However, unlike its predecessor, which is an 8-core/16-thread part, the Core i9-10900K bulks up to 10 cores capable of executing 20 threads.
The document leak plots out Intel's "Performance Projections" for the Core i9-10900K, and we're looking at some nice generational gains across the board in a number of benchmarks including SYSmark, XPRT, SPEC, and even Cinebench. That last benchmark is one that Intel has called out in the past as not being indicative of the real-world performance of its processors.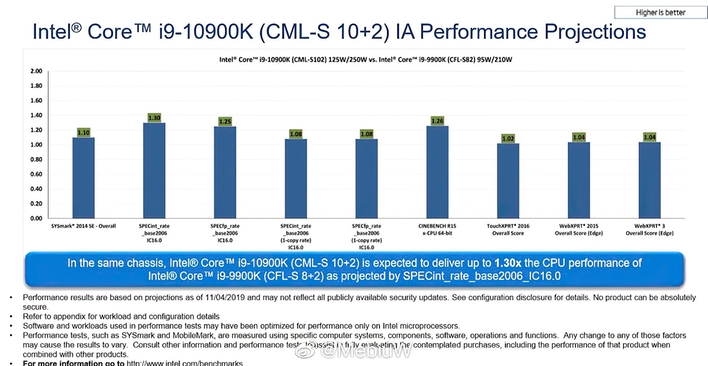 In the XPRT benchmarks, we're seeing anywhere from a 2 percent to 4 percent uplift in performance compared to the Core i9-9900K, while SYSmark sees a heathy 10 percent increase. The biggest gains, however, come with SPEC, which sees anywhere from a 25 percent to 30 percent advantage for the Core i9-10900K. Not to be left out, Cinebench numbers usher in a 26 percent uplift for the Core i9-10900K versus the Core i9-9900K.
The leaked slide also confirms that the Core i9-10900K has a TDP of 125 watts (compared to 95 watts for the Core i9-9900K). Also mentioned is a 250W TDP (PL2 power state) for all-core boost.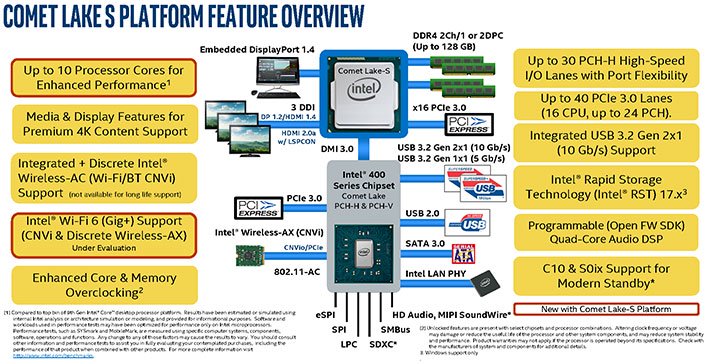 The Core i9-10900K represents the first expansion past 8 cores for Intel's consumer processors, but still puts its behind AMD's efforts with Zen 2-based Ryzen 3000 processors. AMD got the ball rolling with the 12-core/24-thread Ryzen 9 3900X, then really dropped the hammer with the 16-core/32-thread Ryzen 9 3950X.
Given AMD's strength in multi-threaded benchmarks, it remains to be seen if the Core i9-10900K will put up a better showing compared to its predecessors. And even if the Core i9-10900K does put up strong numbers, we'll have to keep in mind that Zen 3-based Ryzen 4000 processors won't be too far behind...