Here's All We Know About Intel's Comet Lake-S 10th Gen Desktop CPUs
Only a few days remain in the calendar year, with 2020 looming just around the corner. It's exciting because 2020 figures to be a big year in tech—new graphics cards, new game consoles (at the end of the year), more advancements in VR, and of course new CPUs. As to the latter, Intel will be rolling out its 10th generation Comet Lake-S processors sooner than later. What can we expect from the upcoming parts?
To help answer that question, a bevy of leaks and rumors have given us a idea of what Comet Lake-S will entail (unofficially, of course). First, though, let's talk about the nomenclature Intel is using. It can be tough keeping up with the different codenames and nodes. To be clear, Intel is labeling its Comet Lake CPUs as being 10th generation parts. Even so, they are yet another product of the company's 14-nanometer manufacturing process, albeit a refined version dubbed 14nm++.
This can be extra confusing because Intel's
Ice Lake processors
(currently only shipping in mobile form) are also labeled as 10th generation parts. However, Comet Lake-S is not the desktop version of Ice Lake, as those CPUs are built on a 10nm manufacturing process.
Leaked Intel Comet Lake Mainstream Desktop CPUs
Last month
, Twitter user @momomo_us noticed an interesting dump on Pastebin that supposedly outlines several mainstream Comet Lake desktop processors (that's where the Comet Lake-S nomenclature comes into play). Here's a look...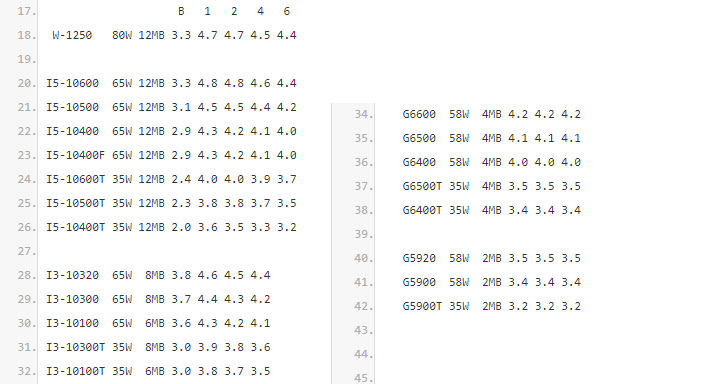 Source: Pastebin
The data dump lists a bunch of Core i5 and Core i3 CPUs, along with several Pentium class processors and a workstation chip. This is not a complete list, of course, as there will inevitably be Core i7 and Core i9 parts as well.
With Intel making further refinements to its 14nm node, its next round of chips should be able to support higher clockspeeds. It remains to be seen how far they will go. That said, the folks at
Videocardz
spotted some newly leaked entries that were not known in November. They include the Core i3-10300 (
UserBencmark
via
APISAK
) with 4 cores and 8 threads clocked at 3.7GHZ to 4.2GHz,
Core i5-10600
(3DMark via
_rogame
) with 6 cores and 12 threads clocked at 3.3GHz to 4.5GHz, an unnamed 6-core/12-thread CPU clocked at 3.5GHz (
_rogame
), and a 10-core/20-thread part clocked at 3.3GHz (
_rogame
).
Rumor has it there will actually be at least three 10-core/20 thread CPUs in the Comet Lake-S family. They include...
Core i9-10900K(S/F): unknown clocks, 20MB total cache, 95-125W TDP
Core i9-10900: 3GHz to 5.1GHz, 20MB total cache, 65W TDP
Core i9-10900T: 2GHz to 4.5GHz, 20MB total cache, 35W TDP
On the opposite end of the spectrum, a lower end
Core i3-10100
Comet Lake-S is rumored to be on tap. According to a leak in October, the Core i3-10100 will feature 4 cores and 8 threads clocked at 3.6GHz, 6MB of L3 cache, and 1MB of L2 cache.
Leaked Intel Comet Lake Platform Details
The CPUs are only part of the equation, there is the platform overview to consider as well. To that end, there have been leaks too.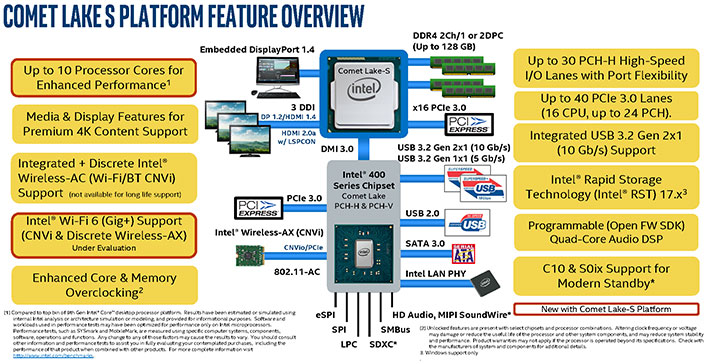 Click to Enlarge (Source: WCCFTech)
While we can't vouch for any of this being accurate, it is at least interesting. According to the above slide, we are looking at up to 30 PCH-H high-speed I/O lanes, up to 40 PCIe 3.0 lanes (16 CPU, to up 24 PCH), integrated USB 3.1 Gen 2x1 (10Gbps) support, Wi-Fi 6 (802.11ax) support, and a few other odds and ends.
There has also been chatter of a new LGA1200 socket. This would mean Intel would finally be retiring LGA1151, though coolers that work at LGA1151 motherboards would reportedly also work with upcoming LGA1200 motherboards. We'll have to wait and see though.
The new socket would improve power delivery and support for future I/O features. In addition, even though the size/dimensions are said to be unchanged (37.5 x 37.5 mm), the keying would be different, so don't expect backwards compatibility with legacy platforms.
According to
WCCFTech
, Intel is planning to deploy several chipsets from within the 400-series family. The Z490 would sit at the top of the totem pole, and interestingly enough,
Gigabyte
has already
pinged the EEC
with a few Z490 motherboard listings. They include...
Z490 Aorus Master Waterforce Z4 Pro AX
Z490 Aorus Elite AC
Z490 Vision
W480 Designare ECC
H470I Aorus Pro AX
B45M H
We expect Gigabyte will have a lot more once Comet Lake-S rolls into view, and of course we can expect a variety of 400-series motherboards from the likes of ASUS, ASRock, and MSI.
As to when all of this will materialize, rumor has it Intel is targeting a February 2020 launch.