Alleged Core i7-11700 Rocket Lake Benchmarks Confirm Intel Is Ready To Rumble With Ryzen
Intel is promising big things from its upcoming Rocket Lake-S CPUs, including upgraded features like PCI Express 4.0 support and faster memory, and of course a
double-digit bump in IPC
(instructions per clock) performance. In the early going, we have seen a mix of benchmark leaks,
some more promising
than others. Now as we head into the home stretch, a user has posted an informal 'review' of the Core i7-11700 (non-K model), based on what they claim is a qualification sample.
A qualification sample is still considered an engineering sample (ES), which itself is a version of an upcoming processor that is tested internally, and also sent out to OEM system builders, and eventually reviewers. Finalized specifications, including clockspeeds and features, can vary quite a bit from early ES chips.
Later ES chips, however, and especially ones that are referred to as qualification samples, are typically (though not always) representative of finalized silicon (or very close to it). In Windows parlance, you can think of it as a release candidate (RC) build.
That's what makes this latest leak so interesting. In a
YouTube video
posted by
Odd Tech Reviews
, we supposedly get a look at how a Core i7-11700 qualification sample performs, with numbers also included from an earlier ES chip with a slower clockspeed. In theory, this gives us the best look yet at how Rocket Lake-S will actually perform.
Nevertheless, this is not our own testing, nor has Rocket Lake-S formally launched to retail yet. So while interesting, it's still too early for onlookers to draw any kind of concrete conclusions.
Disclaimer out of the way, the benchmark results suggest Rocket Lake-S is ready to rumble. The 11th Gen Core i7-11700 is not Intel's flagship Rocket Lake-S CPU, but it does wield 8 cores and 16 threads, which is the highest Intel's next-gen parts will go. It is also said to have a 2.9GHz base clock and up to a 4.4GHz turbo clock, with a 65W TDP.

Leaked Intel 11th Gen Core i7-11700 Rocket Lake-S Benchmarks
For this 'review', the user slapped the chip into an ASUS ROG Maximus XIII motherboard based on Intel's Z590 chipset, with 32GB of DDR4-3200 RAM, a 1TB WD SN850 SSD, and an MSI
GeForce RTX 3080
graphics card. A beefy system for sure.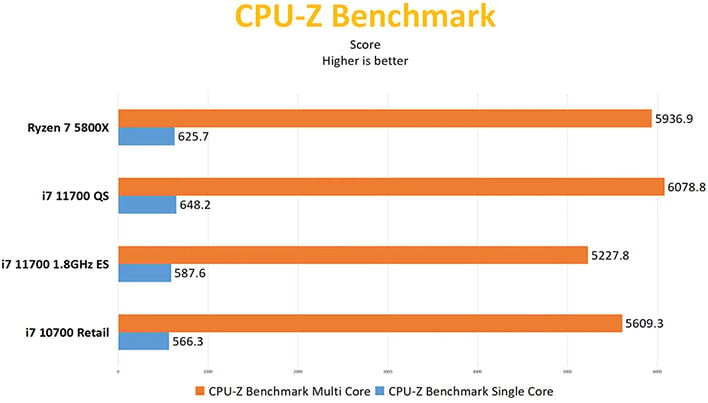 Clockspeed still matters folks, and we see this right out of the gate. in CPU-Z, the Core i7-11700 qualification sample showed a 10.3 percent jump in single-score performance compared to the earlier ES chip running at just 1.8GHz, and a 16.3 percent in multi-core performance. It also outpaced AMD's Ryzen 7 5800X in both single-core and multi-core benchmark runs, despite how it is positioned on the graph.
Other tests showed similar gains in performance over the previous ES chips, and sizable jumps over the current-generaiton Core i7-10700 (Comet Lake-S). However, it yielded ground to the
Ryzen 7 5800X
in several tests, including Cinebench R20. Have a look...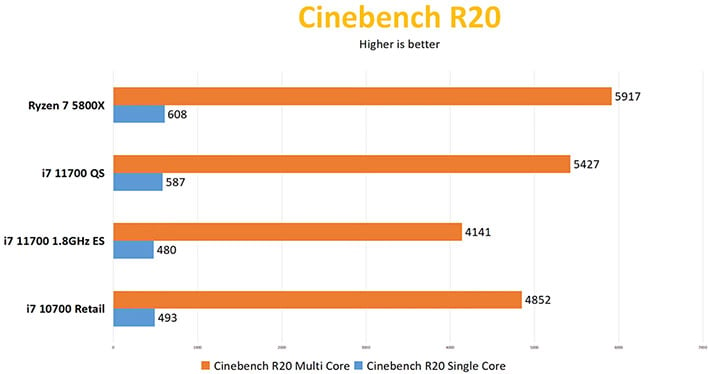 In Cinebench R20, the Ryzen 7 5800X came out around 3.6 percent ahead of the Core i7-11700 in the single-core test, and scored 9 percent higher in the multi-core test. Compared to the both the ES chip and the Core i7-10700, however, the Core i7-11700 qualification sample shows big gains in both single-core and multi-core performance, in this benchmark run.
It's worth mentioning that from
Intel's vantage point
, there are better benchmarks to gauge everyday performance. That is a whole other discussion. In any event, if you have a coffee break to spare, it's worth watching the video in full, which contains a bunch of other benchmarks.