Intel Core i5-11400 6-Core Rocket Lake-S CPU Makes Early Appearance With 4.4GHz Boost
At this point, Intel has to be putting its final touches on its 11th Gen Core processors for the desktop, otherwise known as
Rocket Lake-S
. This will be the last major hurrah for Intel's 14-nanometer node (presumably), and according to Intel, it will deliver a double-digit IPC gain over Comet Lake-S. As we wait for the official launch, a mid-range SKU has poked its head into the SiSoftware SANDRA database, revealing some key specs.
The unreleased part in question is the Core i5-11400. This will supplant the Core i5-10400, and like that CPU, it is shown within the SANDRA database as being a 6-core/12-thread processor. The listing also indicates a 2.6GHz base clock and 4.4GHz turbo clock, along with 12MB of L3 cache (or Intel SmartCache, if you prefer).
Have a look at the listing...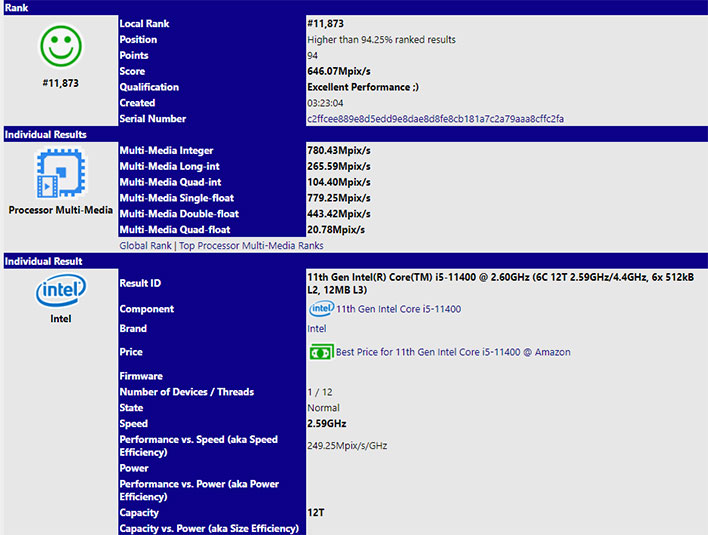 Source: SiSoftware SANDRA
How do these specs compare to the Core i5-10400? Here's a handy comparison...
Core i5-11400 (Rocket Lake-S): 6 cores/12 threads, 2.6GHz to 4.4GHz, 12MB L3 cache
Core i5-10400 (Comet Lake-S): 6 cores / 12 threads, 2.9GHz to 4.3GHz, 12MB L3 cache
So if we take this leak as the gospel truth, the Rocket Lake-S part has a 300MHz lower base clock and a 100MHz higher turbo clock, with the same amount of L3 cache. However, this is undoubtedly an engineering sample, so the final specifications could change.
It's not just about clocks and cache, though. Rocket Lake-S will bring some notable improvements to the table, including
PCI Express 4.0 support
(up to 20 lanes), increased memory speeds of up to DDR4-3200, Xe graphics, and enhanced performance by way of using Cypress Cove cores.
All that said, I'm hesitant to read too much into the benchmark numbers, given tweaks to the silicon, chipset, and drivers will all play a role in the final performance. That said, the overall score 646.07 Mpix/s is not all that stellar compared to a
Ryzen 5 5600X listing
, which scored 882.89 Mpix/s. I'll reserve judgement until Rocket Lake-S actually
ships in Q1 2021
.