Extensive Intel Arc Alchemist Desktop GPU Lineup Confirmed In Beta Driver
Everyone's
waiting anxiously
for the release of new Intel
Arc
graphics cards to see how they stack up to the competition from AMD and NVIDIA, but don't forget that Intel has already released a couple of Arc products. Laptops packing the Alchemist-based A370M and
A350M GPUs
are slowly trickling
into the market
, and of course, those laptops need graphics drivers.
Intel's just released a new driver for those mobile GPUs, and naturally, that means that it's time for enthusiasts to go digging for gold in the driver's guts. Enterprising leaker 188号, better known by their Twitter handle @momomo_us, has gone deep and come up with a nugget of information that would seem to contest
an earlier rumor
.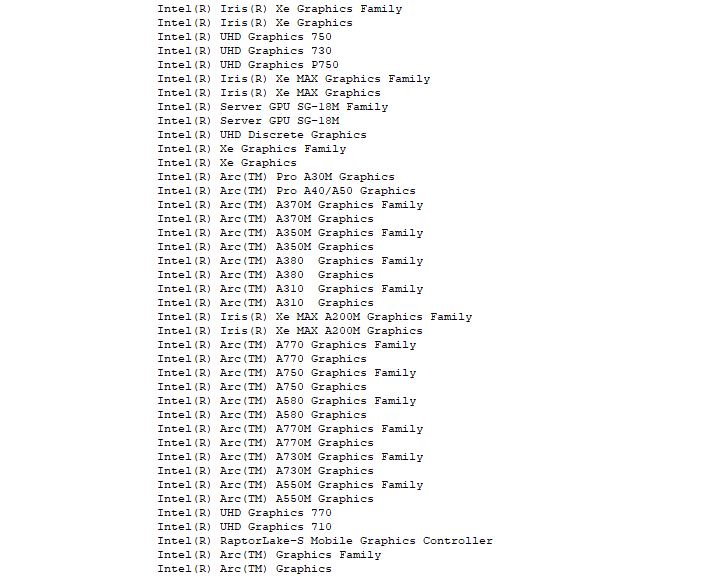 Buried in the driver is a list of products that the software supports, and alongside the expected entries for things like the Iris Xe MAX and Arc A350M, we also see a pile of other products that Intel hasn't announced—including what sound like some pretty high-end Arc graphics cards.
The existence of the Arc A770, Arc A750, and Arc A580 aren't a surprise to us, but it's nice to see them confirmed from an official source, even if accidentally. Other interesting entries in the graphics card driver include a "Server GPU SG-18M" listing, a slot for "
RaptorLake-S
Mobile Graphics Controller," and a generic "Arc Graphics Family" SKU.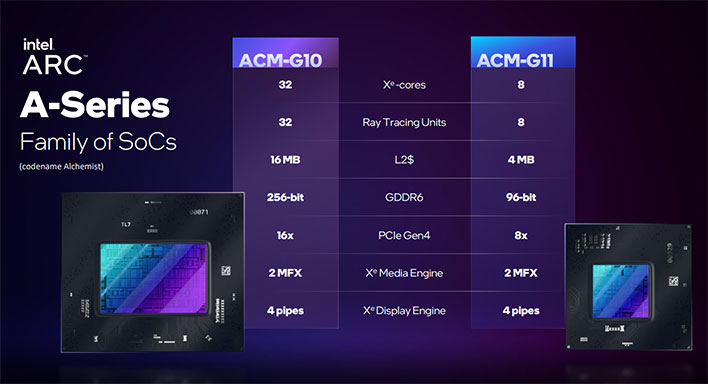 Hopefully, these entries appearing
in the driver
is an indicator that desktop cards are coming sooner than later. Supposedly, NVIDIA will be launching its next-generation
Ada Lovelace
GPUs within the coming weeks—possibly as soon as Computex, on May 24th—and that would put Alchemist in a poor position for sure.