This Intel Arc A750 Limited Edition GPU Deal For Just $225 Is Insanely Good
It's barely been a week since we
highlighted price drops
across Intel's Arc Alchemist discrete graphics card lineup, including a custom ASRock Challenger Arc A750 8GB card for the ridiculously-low price of just $239.99. That's still a great deal, though if you prefer Intel's own Limited Edition (LE) variant, you can snag one for an even lower price right now.
There are no mail-in-rebates to fuss with either, just a coupon code to enter. Using code
PAX323B
knocks $25 off the price at checkout, scoring you an
Intel Arc A750 LE
for
$224.99 at Newegg
(plus tax of course). That's the lowest price this card has ever been. It's also $64 below the card's launch MSRP when it released to retail just five months ago.
There is a caveat. We're not the only ones to recognize that this is a steal and Newegg is already sold out of its current inventory. However, you can still place an order with the aforementioned coupon code. Newegg says it "will replenish [stock] as soon as possible."
As an added bonus, the card comes with Intel's Spring Play and Create bundle with a bunch of goodies. Newegg lists the value at $99.99, while Intel claims it's $490+ worth of software. It includes the game Nightingale & The Settlers: New Allies, along with a full download for Topaz Gigpixel AI and subscriptions for PowerDirector 365, D5 Render, MAGIX Video Pro X14, and XSplit Premium.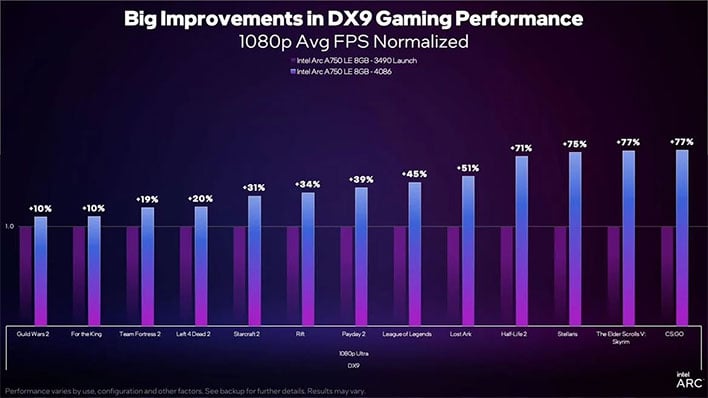 You can check out our
Intel Arc A750 review
for our full analysis, but the abbreviated rundown is that it's a great card for 1080p gaming with a high band-for-buck proposition, especially at $224.99. The A750 typically outpaces AMD's Radeon RX 6600 and competes favorably with NVIDIA's GeForce RTX 3060 in many current titles. It does reasonably well with ray-traced games too.
Intel has also made gains in older games thanks to continued driver development. The chart above highlights huge improvements in framerates since launch, culminating in a 77 percent gain in both CS:GO and The Elder Scrolls V: Skyrim. Not too shabby.