Intel 14th Gen Core i9-14900K Breaks Cover At A Blistering 6GHz
It's not really a secret that Intel is planning to trot out a lineup of 14th Gen Core desktop processors under the
Raptor Lake-S Refresh
banner. There have been multiple leaks and rumors dating back to last year, including ones from Intel's hardware partners. The latest leak, however, is another one centered on the Core i9-14900K, which barring any surprises will be Intel's next flagship consumer desktop chip.
Intel is not officially commenting on its pending 14th Gen lineup but from everything that's been observed so far, Raptor Lake-S Refresh CPUs will use the same LGA 1700 socket and 700 series chipset as Intel's 13th Gen
Raptor Lake-S processors
. The new lineup is essentially the same silicon without any architectural changes, but with faster clocks. MSI also recently let slip that at least one of the SKUs—the Core i7-14700K—will feature extra E-cores compared to its 13th Gen equivalent (Core i7-13700K).
That's in line with previous leaks, which collectively suggest the following specifications...

The Core i9-14900K is pegged as having a maximum Turbo frequency via Thermal Velocity Boost of 6GHz. That's 200MHz higher than the Core i9-13900K. The E-Cores will max out at 4.4GHz, which is 100MHz faster than its 13th Gen sibling, while the L2+L3 cache and TDP are both the same.
Now for the first time, the Core i9-14900K has made a CPU-Z benchmark cameo and it shows the same 6GHz clock speed.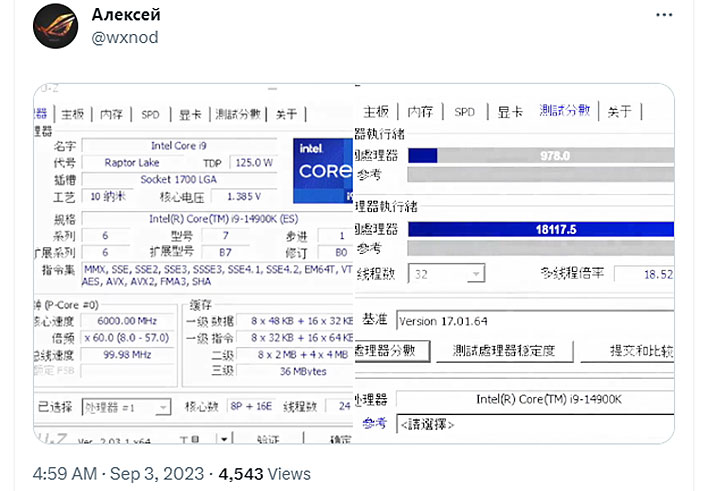 Twitter/X user @wxnod posted a pair of CPU-Z screenshots showing the Core i9-14900K flaunting its specifications and built-in benchmark performance. We don't have any details on the surrounding platform, but it seemingly confirms that the chip will come out of the box with a 6GHz max Turbo frequency and 125W TDP. It also shows the chip as needing 1.385V to hit that clock.
Looking at performance, the Core i9-14900K achieved 978 points in CPU-Z's single-core test and 18,117.5 points in the multi-core test. According to CPU-Z, the Core i9-13900K averages 902 points in its single-core test and 16,680 in its multi-core test. In this single (and leaked) benchmark run, the Core i9-14900K posted an 8.4% faster single-score score and 8.6% higher multi-core score, versus the average.
We wouldn't read a ton into all this, given that we have no idea what the testing conditions looked like or the state of the assumed Engineering Sample (ES) chip. It make sense that the Core i9-14900K will score higher, though, with the benefit of faster clocks.
What will really be interesting is to see how the Core i9-14900K compares to both the Core i9-13900K and the
Core i9-13900KS
, the latter of which also boasts a 6GHz max Turbo frequency. Meaningful comparisons will come when we and others have a chance to test and compare the chip using the same accompanying hardware and settings.