How To Liquid Cool Your PlayStation 5 Game Console With EK's New Waterblock
Yep, that's right, Sony's latest
PlayStation 5
gaming console is now cool-able with liquid. EKWB has developed a new full-cover water block for the PlayStation 5, that enables the unit to be cooled completely by liquid, including the Zen 2 SoC, power delivery system, GDDR6X memory chips, and more. The water block won't boost performance, but it will reduce the operating temperature of the PS5's components, enabling quieter operation and looks really
cool
.
Since the PlayStation 5 isn't designed for water cooling in the first place, EKWB's full coverage
water-block
was designed from the start to be incorporated into a standard micro-ATX computer chassis. The block has the same mounting layout as a micro-ATX case, allowing you to mount the block into any case that supports micro-ATX motherboards.
The monoblock itself is made out of a nickel-plated electrolytic copper that features a see-through acrylic window on the top, exposing the liquid and metal heatsink inside. The monoblock comes with a white and black theme, with the left side painted in a white finish featuring PlayStation lettering at the bottom.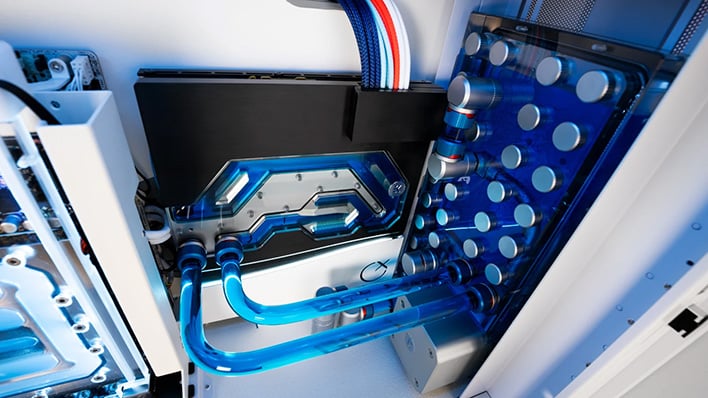 The block is responsible for cooling every part of the PlayStation 5 that requires active cooling. These components include the Zen 2 SoC, GDDR6 memory chips, voltage regulators, SSDs, and controllers. The SoC is cooled via thermal paste, while the rest are cooled by thermal pads. Liquid transference is achieved with two G1/4" fittings housed by the top left edge of the see-thru acrylic window.
Since the monoblock can't use the PlayStation 5's own proprietary casing; installing the monoblock onto the PS5's internals takes more work than a typical custom-cooled PC. You first need a compatible case, tubing, fittings, water pump, and PC power supply to replace the PlayStation 5's proprietary chassis, cooling system, and power supply. Then you need to rip the PS5's mainboard out of its chassis and prepare it for installation with EKWB's waterblock.
Once the EKWB is installed, with all of the required thermal pads and thermal paste, putting all the remaining parts together is virtually identical to building a gaming PC. All you have to do is put the PS5's mainboard into the motherboard tray in a computer case, mount the radiator(s), mount the power supply, and then install the tubing and power supply cables.
Though beware, there is a compatibility list that only includes newer PlayStation 5 revisions. For the United States, this includes the CFI-1215A and 1215B models. Any models that don't have this model name won't be compatible, due to physical differences. Users affected will be the ones who bought the PlayStation 5 at launch or a year afterward. Any recent models should be utilizing the updated design used in the 1215A/B.
The waterblock, known as the EK-QuantumX CoolingStation Monoblock for PS5 is available for pre-order right now, priced at
$449.99
. Product shipments are expected to debut later this month.