How To Link Your Steam, Epic And Ubisoft Game Libraries To GeForce NOW
NVIDIA's GeForce NOW cloud gaming service makes game streaming more convenient by allowing gamers to connect some of their game library accounts directly to NVIDIA's streaming service. Before it was only possible to do this with Steam and the Epic Games Store, however, NVIDIA has now added Ubisoft Connect to its list of supported libraries, allowing users to seamlessly stream games from the GeForce NOW app without any interruptions.
Connecting supported game libraries directly to GeForce NOW has a lot of benefits. The biggest is automatic sign-in when you start up your game from GeForce NOW. Instead of being forced to type in your account credentials every single time you fire up your game, you'll be able to skip this step with automatic sign-in by connecting a supported game library. NVIDIA also highlights that connecting your game libraries will synchronize game progress and result in faster launch times as well.
The reason this is so special is due to how NVIDIA's cloud streaming service physically works. Unlike other platforms like PlayStation Plus or Google Stadia (rest in peace), NVIDIA emulates PC hardware (like an
RTX 4080
) and a Windows operating system in the cloud to stream PC games to your device at home. As a result, this requires games to be launched from traditional game libraries such as Steam, Epic Games, EA Play etc, etc, which would make GeForce NOW a more clunky experience without account connections, since you again would have to sign into your libraries when you fire up a game on the GeForce NOW application.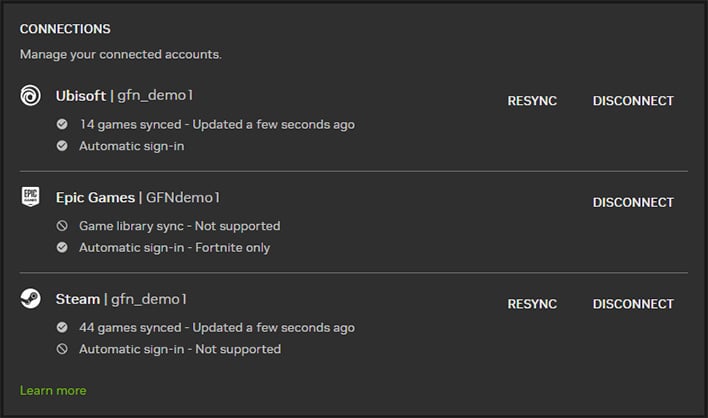 To connect your accounts, all you need to do is go into the GeForce NOW application of your choice — whether that be the Windows app or various web-based versions — and head to the settings tab. From there you can see all of your available connections on the right menu, where you can connect your Ubisoft, Steam or Epic Games Store accounts. When connecting you will be redirected to a new browser tab asking you to log into your account.
Though unfortunately, not all game libraries can be connected to NVIDIA's cloud service, particularly from games running from the EA App. The Epic Games Store is also still missing syncing abilities, which increases the chance of a game not having the latest saves if you switch back and forth between GeForce NOW and your local gaming machine.
Nonetheless, Ubisoft Connect now has syncing support which is great to see and we hope NVIDIA will be able to support more game launchers in
the future
. For more details be sure to check out NVIDIA's blog post
here
. NVIDIA also announced three more games that have arrived on the GeForce NOW service including
Season 1: Broken Wings
for
Tom's Clancy's The Division 2, Amnesia: The Bunker,
and
Harmony: The Fall of Reverie.