How To Access Hidden Windows 11 Features With Microsoft's Leaked Staging Tool
A very powerful internal testing tool was accidentally shared with the public by Microsoft, known as the StagingTool, which has the ability to unlock hidden features of
preview builds
of Windows 11. As a result, users can now circumvent any attempts from Microsoft to hide certain features from Windows Insiders, allowing anyone to test upcoming OS features at will.
The tool was ironically "leaked" by Microsoft accidentally during its August 2023 Bug Bash, where testers were directed to download Microsoft's internal testing tool directly from the Windows Feedback Hub. Obviously, Microsoft has realized the mistake it made and pulled back the download, but the "damage has already been done." Testers that downloaded the tool have already uploaded it to the internet for everyone to try out.
Since the tool is not available from Microsoft directly, we won't share any links with you here due to security concerns. But if you want to try out the tool yourself, it is as easy as "Googling" the application online and downloading it. But of course, be cautious with the downloads you check out since these 3rd party downloads can contain viruses or malware. We will also caution that the tool is not user-friendly at all and will require some extra knowledge about Microsoft's internal feature update codes to use it effectively.
You'll need to be running an Insider build of Windows to unlock any hidden features, so make sure to join the Windows Insider Group before trying to open the tool. Once complete, open the StagingTool in an elevated
command prompt
to start using it. To get a lay of the land, you can type in
StagingTool.exe /?
to open the app's built-in help file that will tell you about all the commands that can be run in the program.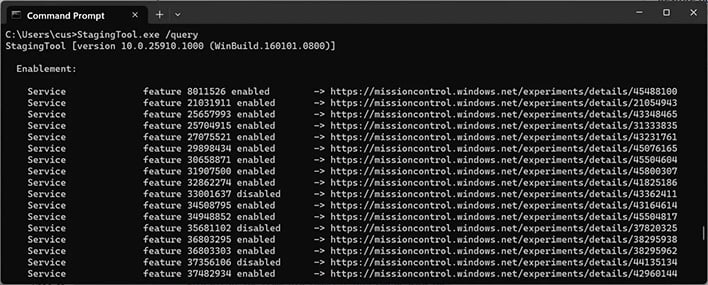 Enabling a hidden feature is the tricky part. According to
BleepingComputer,
you can check out a whole list of available feature IDs with the command
/query
. The list it generates will only show you a list of available features in Microsoft's cryptic "feature ID" codes without a description, making it impossible to tell what each feature does. To check what any of the features do, you'll have to scour the internet to see what each feature ID is connected to.
Of course, you can always enable a feature and search the operating system to see what it does, but this is dangerous since these features are not fully tested, so turning one on could brick your entire Windows install if you're not careful. We'd recommend running this program in a virtual machine if you don't want to mess up your personal system.
Once users get the hang of Microsoft's "feature ID" system, we could see
StagingTool
unlocking a lot of hidden features that Microsoft did not intend for the public to see.