How Google Chrome Is Beefing Up Protection Against Malware-Infested Extensions
The internet can be a dangerous place, and that's before you start integrating bits of third-party code into your browser. Some of those extensions end up being shady or
even outright malicious
, and that can lead to their removal from centralized repositories like the Chrome Web Store. Google doesn't want people wondering why their favorite extensions suddenly vanished, so it's going to thoughtfully start listing the reason with the upcoming release of
Chrome
117.
Extensions can provide necessary functionality, but they have a great deal of freedom to monitor and alter your web traffic, potentially exposing you to invasion of privacy and malware. Most extensions don't do this, but the way Chrome
syncs data across devices
can cause old extensions to pile up, and even once reliable extensions from the past can be updated with harmful features.
In Chrome 117, the "Privacy and Security" menu will list installed extensions that need to be reviewed. Click the "Review" button, and Chrome will tell you which extensions have been removed from the store and why. Google says there are three reasons that an extension can be pulled from the Web Store. The developer might choose to unpublish it, in which case you can keep using it without worry. Worse, the extension might have been removed for violating the Web Store policy, and you'll want to carefully consider if you want to keep it installed. You can either remove these extensions or hide the warnings.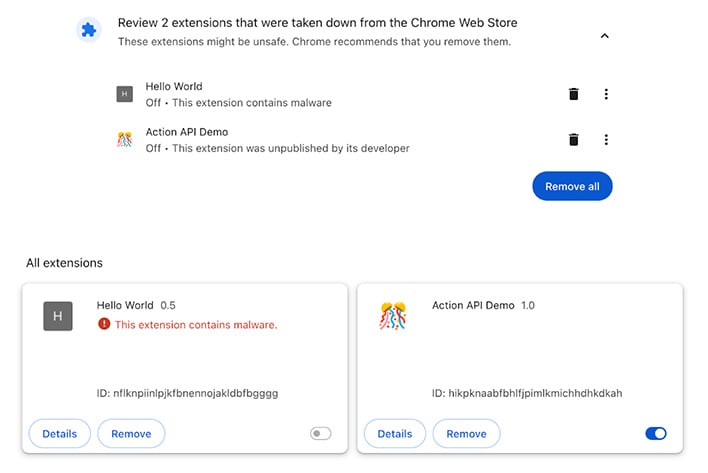 The last category is a bit different. Google will also pull extensions found to contain malware, and here, you don't need to manually remove anything. Google will remotely disable installed extensions if it finds the developer has distributed malware. Google says this approach should provide enhanced security and peace of mind to users without adding undue burden for extensions developers.
The current stable version of Chrome is at 116, and version 117 is in the beta channel. Since 116 just rolled out recently, it might be a few months before 117 reaches most systems.
Google's developer blog
has put out the call for feedback on this change, which you can provide by posting to the Chromium-extensions Google group.