Hacoa's Low-Profile Wireless Mechanical Keyboard Made Of Solid Wood Is Stunning
If you like wood, this might be the keyboard for you. The Hacoa company has created a new wireless mechanical keyboard called the Full Ki-Board Wireless that is not only decked out in wood trim from top to bottom but uses solid wood for the physical keycaps and the exterior housing as well. The keyboard reportedly arrives on the 20th of this month and will be priced at a whopping 99,000 yen – or $745 USD converted in the Asian market. No details were given about a potential launch outside of the Asian market, but the keyboard features an English layout, so it has the potential to be exported internationally.
Many wooden-themed keyboards have come out over the past several years, including the likes of the hand-built
Wooden Apple-1,
and laptops like the HP Envy featuring an
authentic wood finish,
but nothing really has come close to Hacoa's keyboard that is completely saturated in a wood-like finish. The Ki-Board keyboard is fully furnished in a crisp dark wood finish, painted in a urethane protective coat, and comes in either walnut or cherry flavors. The most striking feature of the keyboard is the laser-indented wooden keycaps, which give the plank an extra premium touch.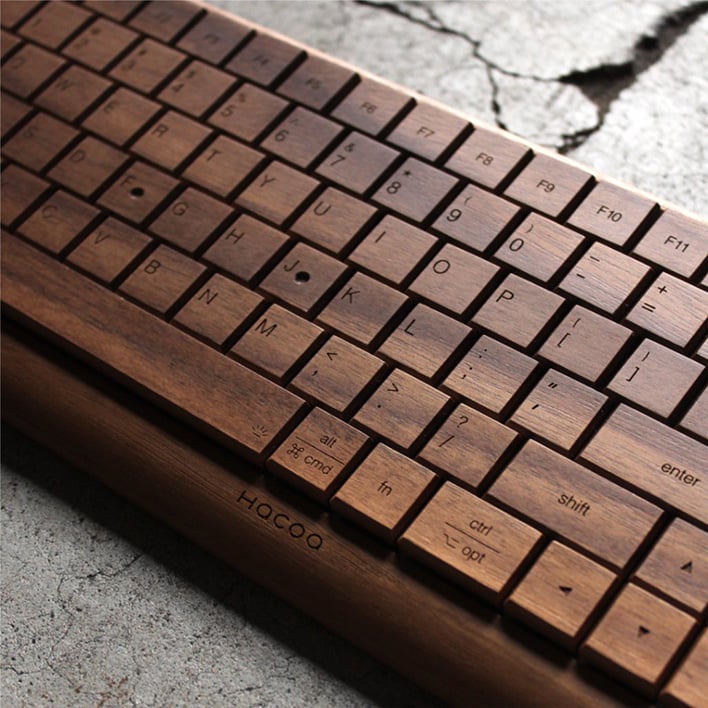 The Ki-Board is a full-sized keyboard with a full number pad measuring 395 x 140 x 31.5mm. The board features "blue axis" mechanical keys with a clicky feel featuring an actuation force of 45g and an actuation point of about 1.2mm. In this respect, the keyboard resembles low-profile gaming keyboards like the Cooler Master SK 630 & 631 which include low-profile Cherry MX red switches with nearly identical characteristics. The only difference with the Ki-board "blue axis" switches, is they are tactile clicky switches like Cherry MX blues - rather than the linear and quieter MX reds. Cherry doesn't make low-profile versions of its blue switches, if you were wondering.
Powering the keyboard is a 1,000mAh battery with a continuous operating time of 240 hours and a charging time of two hours. Connectivity comes in the form of 2.4GHz wireless support and Bluetooth 5.0 support, regulating its USB Type-C port to charging duties only.
As a nice touch, the keyboard also comes with a detachable palm/handrest that is made out of wood to match the keycaps and exterior housing. All these attributes should make the Ki-board an extremely attractive offering for anyone utilizing a wooden-themed office setup. It's just a shame the keyboard is
so expensive
. On top of that, purchasers outside of Asia can expect to tack on hefty shipping fees.