Games Like Starfield Fuel Discrete GPU Demand As Graphics Card Shipments Rebound
Discrete graphics card shipments are on the rise again and this time it has nothing (or very little) to do with cryptocurrency mining. Instead, the "robustness" of GPU shipments in the second quarter of 2023 can be attributed to the buzz surrounding
Starfield
, Bethesda's first original IP in 25 years, and other blockbuster titles, according to the latest shipment report by Jon Peddie Research.
Here's a fun fact contained in the report: Gamers, graphics designers, and other buyers have spent $476 billion on more than 2.1 billion graphics cards since the first quarter of 2001. As points of reference, cards like NVIDIA's GeForce2 GTS, 3dfx's Voodoo 5 5500, and ATI's Rage Fury MAXX were some of the notable GPUs back at the beginning of that time frame.
Historically, second quarter add-in board (AIB) shipments have averaged a 9.7% sequential decline in the past 10 years. In the second quarter of 2023, however, JPR's auditing reveals a surprising 2.9% increase, which is a pretty big swing over the norm.

"The robustness of the second quarter was better than forecasted as the older inventory seems to be finally cleared out and some board suppliers were offering lower prices. The demand shows that the AIB market is still very healthy and vibrant. New games, most noteworthy being Starfield, stimulate demand for new boards that can exploit all the richness of these games. Q3 looks like it too will be up; this is very encouraging for the PC industry in general," said Dr. Jon Peddie, president of JPR.
Broadening the picture reveals a more complicated landscape, which isn't all that shocking when you consider the market is emerging from a multi-year global pandemic and cryptocurrency gold rush, both of which contributed to a widespread silicon shortage.
Compared to last quarter, the 6.4 million AIBs shipped in Q3 of 2023 represents a sizable 36.3% decline. However, that figure is up from 6.26 million units in the previous quarter. It's somewhat problematic to draw conclusions based on how current figures compare to last year's numbers, but it shouldn't be ignored, either.
The general takeaway is that the discrete graphics card market remains in good shape. That says nothing of the complaints and criticisms over pricing and the
amount of VRAM
on some of the latest-generation graphics cards. Those complaints can (and do) co-exist with an uptick in AIB sales, driven by big game releases like
Hogwarts Legacy
,
The Last Of Us Part 1
,
Star Wars Jedi: Survivor
,
Diablo IV
,
Baldur's Gate 3
,
Armored Core 6: Fires of Rubicon
, and other hotly anticipated titles. Not every game release lived up to the hype, but the anticipation has proven enough to sell GPUs.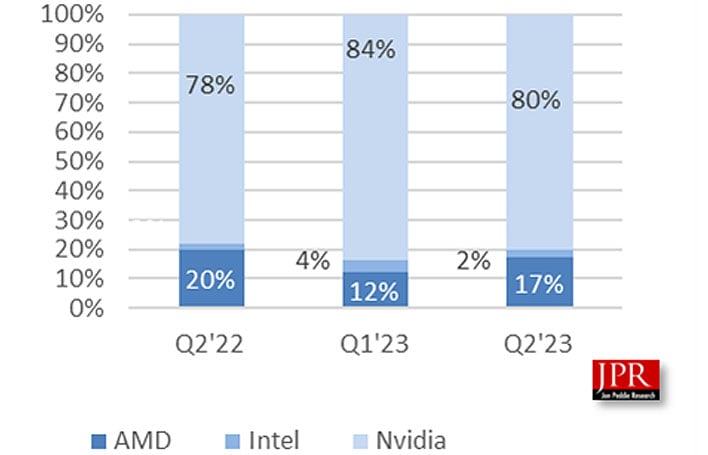 Total AIB share and shipments
As for the market share breakdown, NVIDIA is way out ahead with an 80% share of the AIB market. That's down from 84% in the previous quarter, but up from 78% from the same quarter a year ago.
AMD, meanwhile, claims a 17% share of the AIB market. That's up from 12% in the previous quarter but down from 20% a year ago.
Finally, Intel still has not carved out a significant slice of the AIB market and instead saw its promising 4% share from last quarter get cut in half to 2%, according to
JPR's report
. We can only speculate, but it appears that the introduction of more affordable GPU models from both AMD and NVIDIA stole some thunder from Intel's
Arc A770 and A750
launch. It will be interesting to what impact Battlemage will have on Intel's standing.