Intel Arc GPU Owners Trying To Play Starfield Need To Download This Driver ASAP
Okay, maybe "need" in our headline is a bit extreme. Don't try telling that to folks who are having a bear of a time getting up and running smoothly in
Starfield
on their
Arc A770
or other Alchemist-based graphics card, though. In a statement last week, Intel said it was "aware of issues" with the game and was "working to improve the experience" when it releases on September 6. However, if you splurged on the Premium or Constellation editions for Early Access, those issues are a buzzkill. Fortunately there's a new Arc driver update that addresses some of the more pressing bugs.
Intel's 31.0.101.4672 driver is the one you're after, though keep in mind that it's a beta release and not WHQL-certified. It's the second consecutive beta release, while Intel normally sandwiches just one in between WHQL releases. This suggests that the 31.0.101.4672 update might be a bit more polished. Regardless, if you're trying to play Starfied and are running into problems on your Arc GPU, this is the driver release you're after.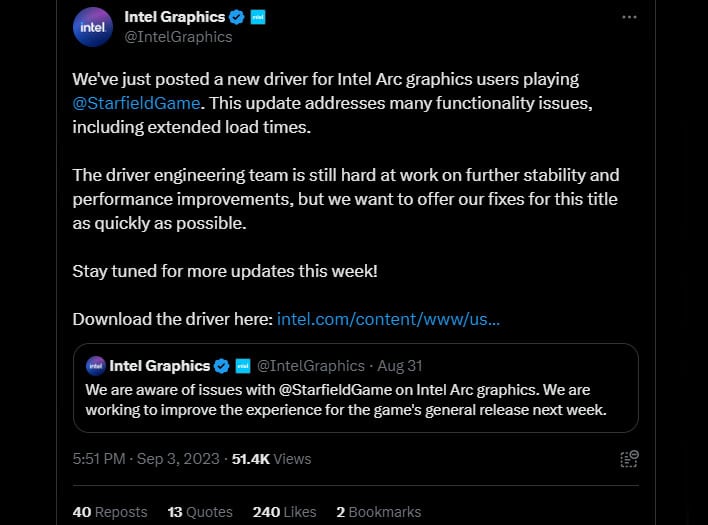 In a post on Twitter/X, the official Intel Graphics account called attention to the driver update saying it "addresses many functionality issues, included extended load times" in Starfield. Intel also said its driver team is working hard on "further stability and performance improvements" for the game's launch later this week, but wanted to at least get something out the door for people who are playing now.
Intel's Ryan Shrout reiterated the sentiment in a tweet of his own saying, "Still work to do for Arc with Starfield, but the SW team worked hard to get the community a driver that addresses a lot of the key functionality concerns. More updates coming this week!!."
Here are the fixes in the 31.0.101.4672 release as outlined in the release notes...
Graphics Driver package has temporarily increased to significantly reduce the Starfield* game load duration.
Several Starfield* game instability and visual artifacts have been fixed in this driver. High Preset and below is recommended to improve stability.
Efforts in progress to further improve overall gaming experience of Starfield* for Intel® Arc™ users in future driver updates.
The first entry is a bit of a curious one, as the package size isn't dramatically bigger than past releases—it checks in at 684.4MB, compared to 634.8MB, 644.8MB, and 620.3MB for the past three WHQL driver updates. Nevertheless, the slightly larger download comes with the promise of a significant reduction in game loads, according to Intel.

It's also interesting that Intel recommends playing
Starfield
at the High preset or lower to maximize stability, at least for the time being. We anticipate that future driver releases will eliminate having to make any such concessions. Time will tell, but for now you can grab the
latest Arc GPU driver
for the best
Starfield
experience.