Here's Google Maps AR Navigation Guiding You With Overlays On Real World Streets
At last year's
Google I/O
conference, there was much talk about
augmented reality
(AR) enhancements that would be coming to the huge popular
Google Maps
navigation app. We haven't heard much else since the feature was first talked up, but Google is now letting a select few testers see how AR navigation works in the real world.
In this case, The Wall Street Journal was given early access to a test build, which uses a combination of your phone's current location (pinpointed via GPS) and your smartphone's camera to get a "live view" of the environment around you. The upper two-thirds of the display within the app shows you the live feed from your camera; then overlays for street names, business names, and directional areas are presented that point to your intended destination. The lower third of the screen is dedicated to the standard overhead view of the map and your given route.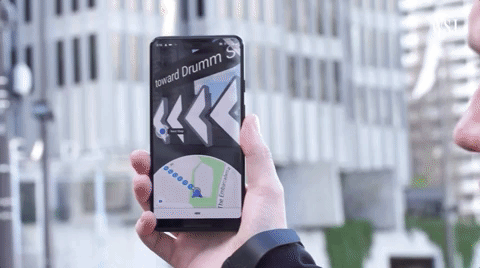 "The arrows pointed right, so I headed right. That's when a rectangular blue sign appeared, floating above the sidewalk: 249 feet until my next turn," wrote the WSJ's David Pierce. "At the corner, the arrows again pointed right, and down the street a phone booth-size red pin marked my destination. It was as if Maps had drawn my directions onto the real world, though nobody else could see them."
It's a rather interesting way to have an interactive navigation experience, albeit one that has you holding up your phone vertically directly in front of you as you walk down a street instead of holding it horizontally as you stare down at the screen oblivious to your surroundings. Even so, the new interface won't allow you to continually use the camera for AR, and will insist that you lower the phone, where the more traditional map interface will then be displayed. This move is also designed to conserve battery power (and likely your sanity).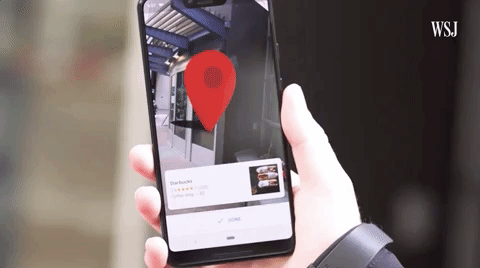 We should mention that Google doesn't see this as a "primary way [for you to] get around", but it's meant to complement the Local Guides feature of Google Maps. However, we could see this as being incredibly beneficial with AR glasses, as it would be a bit more discrete and wouldn't make you look like a tourist walking around with your phone out in front of your face.
At this point, Google has not indicated when this AR functionality will be rolled out to all Google Maps users.