Google Is Bringing Faster Night Sight, Magic Eraser And Other Features To More Phones
Google has been hard at work improving its mobile photo functionality, and the company has released what it calls its first Feature Drop of 2023 for its Pixel devices. These features include better Night Sight, expanded Magic Eraser support, fall detection on the Pixel Watch, and more.
Camera and photo functionality is something that almost all mobile phone manufacturers attempt to improve every flagship generation, and Google is no different. The Pixel 6 and 6 Pro are receiving faster the low-light photo capture capability of the Pixel 7 and 7 Pro, which is made possible by new algorithms powered by the Tensor processor. Additionally, Google says all Pixel phones are now able to leverage the
Magic Eraser
feature.
Pixel March 2023 Feature Drop
There are also some quality of life and health improvements brought to Pixel phones. Pixel devices now have Health Connect as a built-in function that stores your health data locally on your Pixel phone. This makes it so separate health and fitness tracking apps aren't entirely necessary, or those apps could tap into the data Pixel devices already store with management controlled by Health Connect. This seems to fall in line with Google's
acquisition of Fitbit
.
Google Pixel Watches have gained another potentially lifesaving feature—fall detection. Google remarks that the device can detect differences between a hard fall versus a small stumble or other physical activity, helping to
prevent accidental emergency calls
. There are also expanded customizability options for Wear OS 3+. These include a mono-audio option, display color correction, and greyscale modes.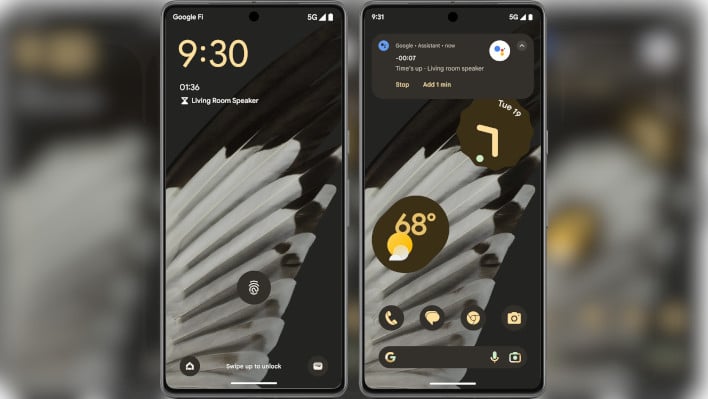 Timers from Smart Devices on Google Pixel Phone
Back on the topic of Pixel Phones, the Pixel 4a and newer now support the Direct My Call feature, which provides a friendly interface for call-tree handling, making the toll-free dialing experience much less of a hassle. Pixel devices also get a display when compatible Google smart-home devices have timers set, allowing you to check how much time is left on the timer in the kitchen while you're in the office directly on your phone. The Google Home Max is not compatible with this feature, though.
Additionally, the Feature Drop brings digital car key support, fast pair on some Chromebooks, new emojis, dual SIM support on Pixel 7 and 7 Pro, and Hold for Me support in Japan. If you want to check out the full new feature list, you
can do so here
.
Is there a feature you'd like to see on your Pixel phone? Or any phone, for that matter. Tell us in the comments below.