Gigabyte Unveils The First Low Profile GeForce RTX 40 GPU For HTPC Builds
HTPC enthusiasts and anyone else who might be interested in a low profile
GeForce RTX 40 series
graphics card would have needed to switch gears to a 'Plan B' for their compact builds, because such a card did not exist before now. Even so, Gigabyte isn't making a huge deal out of it and instead has chosen to quietly slip the first (and so-far only) low profile Ada Lovelace GPU into its product lineup.
Officially called the GeForce RTX 4060 OC Low Profile 8G (GV-N4060OC-8GL), the card measures 182 x 69 x 40 (L x W x H) mm, or 7.17 x 2.72 x 1.57 inches if rejecting the metric system. Either way, it's a smaller card than a standard GeForce RTX 4060, though it does occupy two expansion slots.
Gigabyte's new card also boasts a custom-designed cooling system with three fans to keep the air flowing, and copper heat pipes that make direct contact with the GPU. It's a little unusual to see a half-height card with three fans, but presuming it translates to added cooling, the setup is a welcome inclusion for a card that will presumably end up in tight confines, though you could install this is a regular ATX or even an Extended-ATX case if you really wanted to.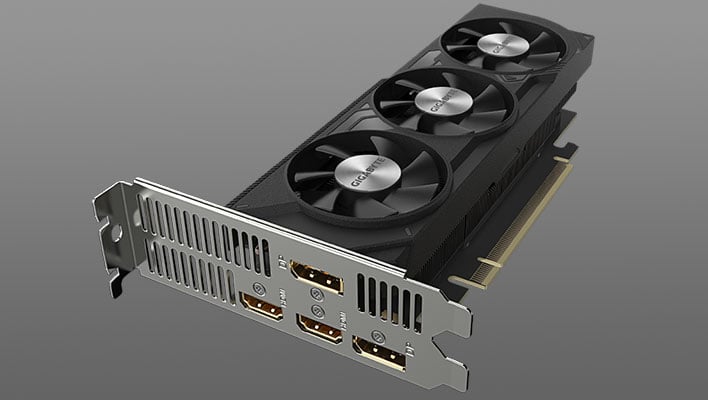 The additional cooling is also notable because the card sports a factory overclock, albeit a conservative one—Gigabyte goosed the core clock to 2,475MHz, which is 15MHz higher than NVIDIA's reference clock (2,460MHz). You might be able to squeeze MHz out of the GPU, though you'd want to ensure your HTPC has ample cooling before embarking down that road.
Aside than the size and factory overclock, this card otherwise sticks to NVIDIA's blueprint for the
GeForce RTX 4060
—3,072 CUDA cores, 96 Tensor cores, 24 RT cores, 96 TMUs, 48 ROPs, and 8GB of GDDR6 memory tied to a 128-bit bus for 272GB/s of memory bandwidth. And of course, it supports
DLSS 3
which is exclusive to the RTX 40 series.