GeForce RTX 5000 GPUs Rumored For A 2024 Release And Huge Performance Uplift
Is it too early to start talking about NVIDIA's GeForce RTX 50 series? Apparently not, as the rumor mill is buzzing about NVIDIA's eventual next-gen graphics card lineup and the underlying GPU architecture that will succeed Ada Lovelace. Naturally we advise taking this all with a healthy dose of skepticism as the
GeForce RTX 40 series
is still finding its legs.
That said, there are a lot of moving parts at play that could have an impact on NVIDIA's next-gen GPUs. For one, NVIDIA founder and CEO Jensen Huang dropped a hint that it might
source Intel for some of its future chips
. While we don't know too many specifics yet, NVIDIA and Intel are at the very least exploring the idea of working together.
"You know that we also manufacture with Samsung, and we're open to manufacturing with Intel. Pat has said in the past that we're evaluating the process, and we recently received the test chip results of their next-generation process, and the results look good," Huang said during a roundtable interview at Computex.
NVIDIA is also heavily invested in artificial intelligence, which has helped the chip designer to tag a
$1 trillion market cap
as it looks ahead to next quarter. This matters because it could potentially affect NVIDIA's goals for its next-gen GPUs.
During that same roundtable interview. Huang dismissed the notion that gamers might take a backseat to AI going forward.
"Number one, RTX was invented for gamers and for RTX, the technology, the most important technology is AI. Without AI, we could not do ray tracing in real time. It was not even possible. And the first AI project in our company—the number one AI focus was Deep Learning Super Sampling (DLSS). Deep learning. That is the pillar of RTX," Huang said.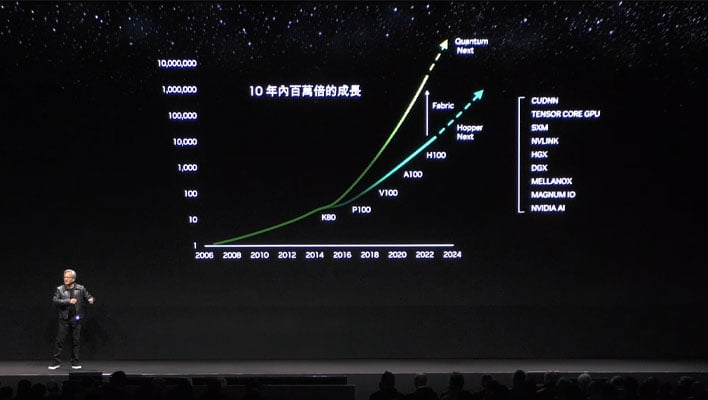 So with all that in mind, what does it mean for the GeForce RTX 50 series? It's too early to know for sure, but according to YouTuber
RedGamingTech
, NVIDIA's next-gen lineup will debut next year and deliver a "HUGE" performance leap.
There's not a lot of meat to the rumor and a large portion of the 13-and-a-half-minute video is devoted to rambling about things that are not directly related to the GeForce RTX 50 series. But there are few nuggets to digest. One of them is NVIDIA's reference to "Hopper Next" during Huang's keynote at Computex.
According to RedGamingTech, Hopper Next is "basically Blackwell" and is "going to be bifurcated, which is not too surprising, we've seen it before of course from NVIDIA across different product segments." That will purportedly include GeForce RTX 50 parts for desktops and laptops, as well as high performance computing (HPC) SKUs.
There's also a mention of SK hynix's confirming that its HBM3E memory is on track to show up in the first half of 2024. However, we'd be surprised if NVIDIA employed HBM3E on its consumer GPUs.

Along the same topic, there's no mention of what the memory allotment will look like for future GPUs. NVIDIA has drawn some criticism for not outfitting its cards with more VRAM, which prompted
AMD to go on the offensive
. But that, along with everything else about the next-gen lineup, is a discussion for another day.