NVIDIA Achieves $1 Trillion Cap On Skyrocketing AI, Doubles Down On Commitment To Gaming
It's not difficult to find images of NVIDIA CEO Jensen Huang smiling, and he certainly has reason to be happy. After the crypto cash train came to a
screeching halt
, a tsunami of AI activity ensured that NVIDIA still has the capability to print money (figuratively, of course), especially with key investments its made over the years. This has allowed NVIDIA to do something that only a few chip firms have been able to do—reach a $1 trillion market cap.
How many other firms depends on how you want to classify companies like Apple with its Apple Silicon and Google with its Tensor Core chips. Regardless, NVIDIA is in an elite class with a ceiling that's yet to be determined.
Sparked by another
stellar quarter and rosy outlook
, NVIDIA's stock price this week surged to $419.38, the highest it's ever been and enough to realize a $1.01 trillion market cap. Some of the initial excitement has waned with NVIDIA's stock currently sitting at around $401 and change, for a market cap in the neighborhood of $991 billion. But if NVIDIA continues to execute, it's conceivable that it will once again punch its ticket into the $1 trillion club and perhaps stay there.
Part of what prompted this is NVIDIA projecting its revenue to hit $11 billion next quarter. If that happens, it would represent a ginormous 52.9 percent gain sequentially, and a 64 percent jump year-over-year.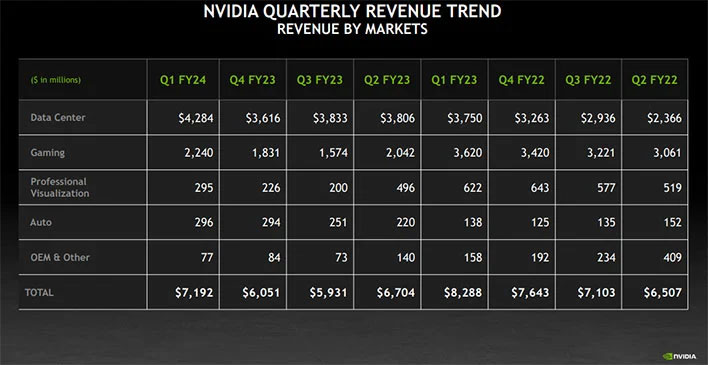 NVIDIA has put itself on solid footing to capitalize on
AI as it scales
. And as it's been for the last several quarters, NVIDIA's biggest winner is no longer gaming, but its data center division. In the most recent quarter in which NVIDIA raked in $7.19 billion, the firm's data center products contributed around $4.28 billion to pile, while gaming came in second at $2,24 billion.
Should gamers be worried that NVIDIA will follow the money trail into AI and leave them behind? Not at all, according to NVIDIA. During a roundtable interview at Computex, Gordon Ung at PCWorld asked Huang if gamers should feel like a jealous older child after a newborn is introduced into the family. Huang pretended to be insulted to the comically-worded question and then offered up some important context.
"Number one, RTX was invented for gamers and for RTX, the technology, the most important technology is AI. Without AI, we could not do ray tracing in real time. It was not even possible. And the first AI project in our company—the number one AI focus was Deep Learning Super Sampling (DLSS). Deep learning. That is the pillar of RTX,"
Huang said
.
The CEO also pointed to the fact that it's first generative AI application is its recently introduced
Avatar Cloud Engine (ACE) for Games
, which is described as a custom AI foundry service that brings AI-powered natural language interactions to non-playable characters (NPCs) for a deeper level of immersion.
Our general takeaway is that while AI may play a bigger role in NVIDIA's dominant data center division, there's definitely overlap into gaming, which is still a huge business—gaming has raked in nearly $7.7 billion in revenue for NVIDIA over the past four quarters, and over $21 billion in the past eight quarters.