Samsung Galaxy S20 Ultra And S20+ Pose With Free Galaxy Buds+ In Leaked Promo Photo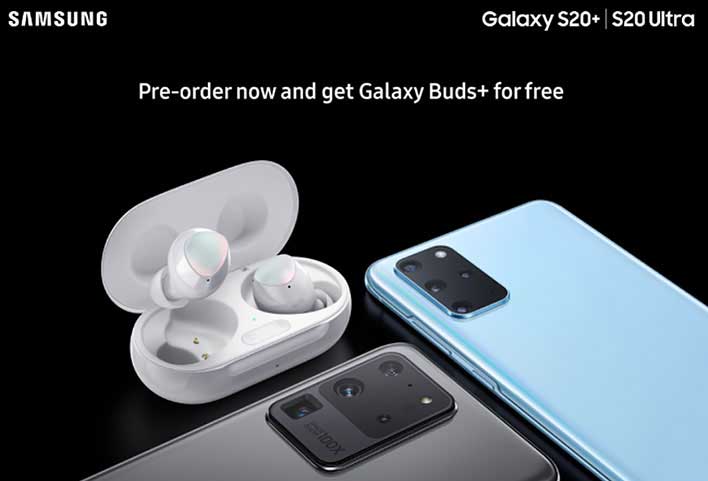 A new image has leaked that shows the Samsung Galaxy S20+ and S20 Ultra smartphones paired up with the new Galaxy Buds+ earphones. The image is said to be a leaked Samsung promotional image, and it is urging smartphone shoppers to pre-order now to get the Galaxy Buds+ for free. The image only lists the Galaxy S20+ and the S20 Ultra, not the base S20, as being eligible for the free Buds+ offer.
There is no mention of pricing or specifications in the image, but we can see the S20 Ultra with its 100x zoom lettering on the bottom camera of the array. There have been multiple leaks and rumors making rounds that claim to give details on the smartphones and the Galaxy Buds+ earphones.
The big gain for the Galaxy Buds+ is expected to be much longer battery life. Rumors suggest an 85mAh battery that will run for 12 hours per charge and a battery case that will extend that to 24 hours. Rumors have said that active noise canceling will not be featured. Multiple leaks have hinted at features of the S20 line.
The most recent leak shows renderings of the S20 Ultra 5G smartphone, which look just like the images of the smartphone we see in the leaked pre-order offer today. Past leaks have given specifications for the S20 Ultra and have tipped a 40MP front camera sensor. The screen is said to be a 6.9 inch unit with a resolution of 3200 x 1440 and support for 120Hz refresh rate with some caveats. The default refresh rate is 60Hz.
The rear camera array is the big feature of the smartphone with the 108MP primary sensor, 48MP 10x optical zoom (100X digital zoom) telephoto sensor, and a 3D ToF sensor. The smartphone is tipped for a Snapdragon 865 SoC paired up with an X55 5G modem. The official debut of the S20 line and the Galaxy Buds+ is expected to happen on February 11 at the Samsung Unpacked event.