Galax Unveils HOF GeForce RTX 4080 With 470W TDP For Monster Overclocks
Chinese graphics card maker Galax has launched a trio of GeForce RTX 4080 HOF OC LAB graphics cards. These are perhaps the only graphics cards directly
targeting extreme overclockers
, now that the EVGA Kingpin series of GPUs are history. Galax's new RTX 4080 HOF models boast some way-out specs including up to 470W TDP, up to 2640 boost before any user-overclocking, and the option of a HOF Panel III display.
The Galax GeForce RTX 4090 HOF scalped a series of headlines due to its impressive speeds, eyebrow raising power consumption, and dominance in the GPU overclocking and
benchmarking world record
tables. The firm also released a GeForce RTX 4070 Ti HOF, so the yawning gap in the HOF family has now been filled for people who want to push the Ada Lovelace AD103 GPU to its limits.
Galax has decided to assemble a trio of RTX 4080 HOF options for customers. The Galax GeForce RTX 4080 HOF OC LAB has a 2595MHz boost, out of the box. Moving up a notch there is the OC LAB Plus model with 2640MHz boost. Last but not least, sitting pretty at the top of the new stack, is the OC LAB Plus-X model, which comes with the extravagant HOF Panel III display and RGB appendage.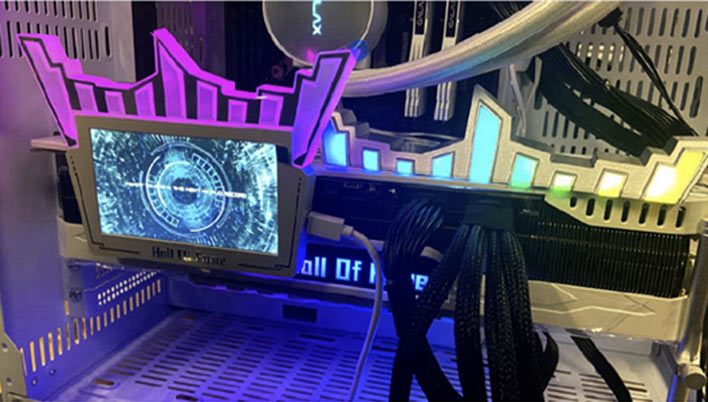 Those boost clocks might not be the fastest available from off-the-shelf designs, but the point of the HOF series is for users to push the GPU clocks to the maximum through deft and canny manual overclocking skills. For days when you aren't overclocking these cards to the max, you can flick the BIOS switch to silent and clocks will boost up to 2505MHz, with power consumption maxing out at 320W like
Nvidia's reference design
. Flicking the BIOS switch to performance will deliver the above-mentioned faster boost clocks, and switch power to 400W, or unlocked up to 470W in OC software.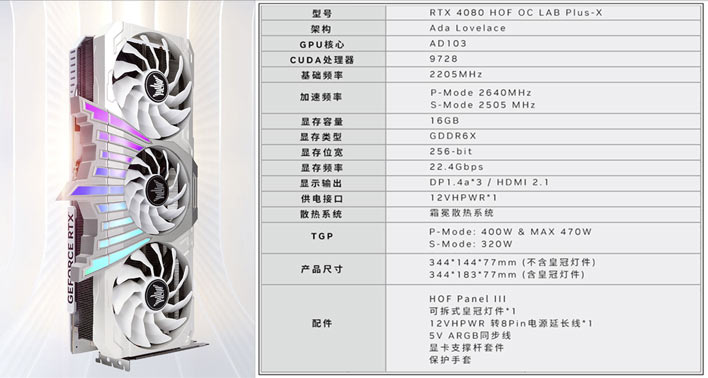 According to
MyDrivers
, these Galax GeForce RTX 4080 HOF OC LAB graphics cards use an "almost identical" design to the RTX 4090 HOF. The all-white designs use twin 112mm fans, with a 92mm spinner between them. Inside there is a sizable 95 x 88mm vapor chamber, four 8mm and five 6mm heatpipes. In a departure from the RTX 4090, power is delivered by a single 12VHPWR 16-pin connector. Galax supplies a 4-into-1 adaptor, and you need to insert at least three 8-pin Molex power inputs to power this card up. The HOF Panel III which comes with the OC LAB Plus-X model offers a 480 x 272 pixels LED display, which is the same as was bundled with the previous gen
RTX 3090 HOF
.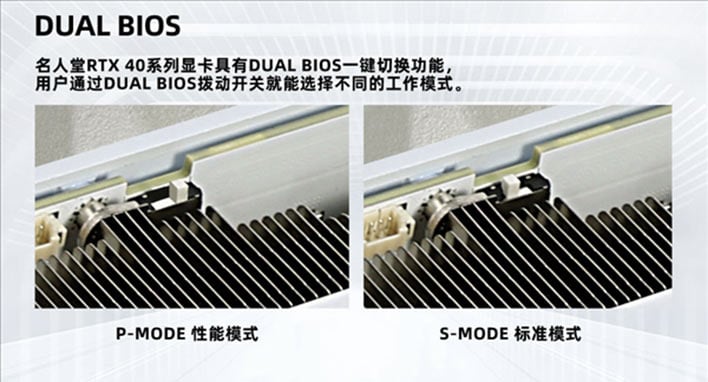 We don't have any pricing or availability details for these Galax GeForce RTX 4080 HOF OC LAB graphics cards at the time of writing.